Extensive Exterior Home Remodel | Abington, PA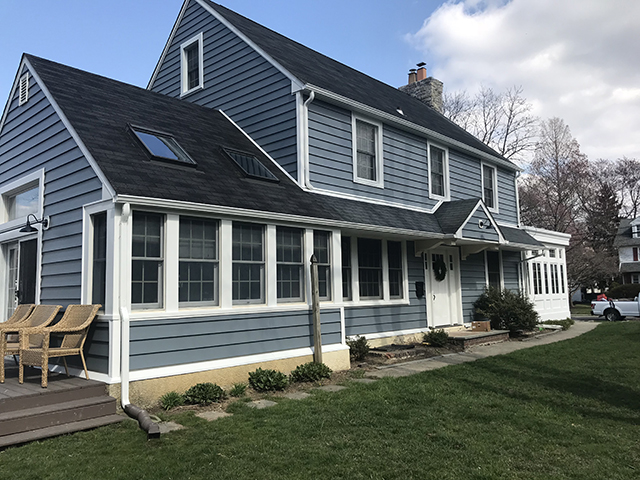 Large-scale remodeling projects are some of our favorite jobs for one simple reason: With a such large amount of work being done, it allows us to create a uniformed style that really complements each other. We were fortunate enough to complete this large-scale remodeling job for a homeowner in Abington, PA.
As part of this home's particular overhaul, we installed a new flat roof, vinyl siding, entry doors, gutters, and soffit & fascia. While not a total remodel, this was a massive undertaking with great results.
Home Siding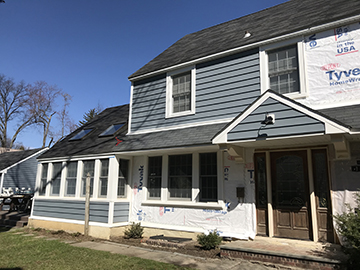 With most of our vinyl siding jobs, we recommend CertainTeed®'s Monogram® vinyl siding which is an excellent choice for any home. But the homeowner wanted a product that was even more durable and higher quality.
For homeowners wanting a sturdier, first-class vinyl siding, we recommend a Ply Gem®'s Structure Home Insulation System®. While more expensive than a CertainTeed system, Ply Gem's Mastic® vinyl siding comes with additional benefits—like expanded polystyrene (EPS) foam insulation, which greatly increases your home's energy efficiency.
Not only is Ply Gem's premium vinyl siding more durable, but it also looks great. Available in 18 different colors, the homeowner opted for a premium color: English Wedgewood, which really stands out nicely when offset with white trim.
Beneath this quality vinyl siding, we also wrapped the entire home in Typar® HomeWrap®. This creates a water barrier between the siding and the plywood exterior walls. Water barriers, like Typar HomeWrap, not only protect the plywood from moisture, but as water permeable materials they also allow moisture to escape.
New Entry Door & Custom Capped Windows
The old entry door was in rough shape. With all the new work, it only made sense to also upgrade one of the most noticeable parts of the home—the front entry door.
When deciding on a material for an entry door, you need to decide what is most important: aesthetics, security, durability—or some combination of them all.
Wooden doors can be the best looking, but lack security, durability, and require a lot of maintenance. Fiberglass is a nice all round door, but lacks the ultimate security of a steel door. Ultimately, the homeowner decided on a Therma-Tru® steel entry door with side panels—a perfect blend of security, aesthetics, and durability.
With all the doors and windows, we also wrapped them with custom bent heavy-gauge aluminum. This bright white trim, also used when installing the new fascia and soffit, really makes the new siding "pop" with color.
Flat Roof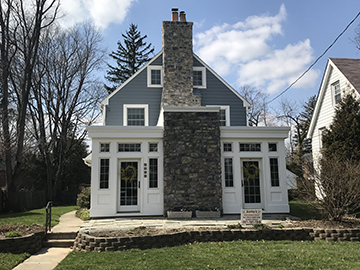 We already discussed the reasoning for a rubber roof over asphalt shingles in another blog post: Why you install one type over the other, and also the benefits of each roof type. The roof over the porch had no slope, and thus, required a rubber roof.
The old flat roof, with a chimney, was a constant problem for the homeowner. Rather than installing an Ethylene Propylene Diene Terpolymer (EPDM) roofing system, we instead installed a Thermoplastic Polyolefin (TPO) roofing system.
While more expensive than EPDM roofing systems, TPO is preferred in problem areas because the seams are three to four times stronger than EPDM roofs.
Chimneys are notorious problem areas—especially on a flat roof!—but when properly flashed by a skilled professional, you don't have anything to worry about.
Gutters
Gutters are often considered a luxury by uninformed homeowners. But gutters are essential for protecting the foundation of your home. Without gutters water will fall off your roof into the ground and begin eroding the soil around your house—potentially causing catastrophic damage to your home's foundation.
While normal gutters will work, the best aesthetic option is seamless gutters with hidden fasteners. Normal gutters are more likely to leak and have shorter lifespans as well. But seamless gutters, for homeowners that can afford it, are always the best option.
How to Contact Us
It benefits having one company performing a total home makeover. While other contractors might specialize in one particular area, when you hire one company for the job, you're ensuring the best possible synergy between the various installations.
If you're interested in a similar home renovation, send us an email through our contact page for a Free Estimate!
RECENT EXTERIOR REMODELING PROJECTS
For years, NexGen Exterior Home Remodeling has been helping homeowners update, redesign, or transform their homes into ones they can enjoy for years to come. Take a look at some of our most recent exterior renovation work by our experts.