Metal Roofing Installation Contractors
Protect Your Home for Decades with a Stylish Metal Roof
The time has come to replace your old roof. While you may be tempted to go with the type of roof currently on your home, such as asphalt or wooden shingles, why not consider a reliable metal roof from NexGen Exterior Home Remodeling? Our metal roofs are stylish and incredibly durable, unlike the not-so-attractive corrugated steel roofs of the past. NexGen's experienced metal roofing contractors are ready to advise you on selecting your new metal roof and then will expertly install it to protect your home and make it the envy of your neighbors. Reach out today for a free estimate!
Should I Install a Metal Roof?
Metal roofs have become more popular over the last decade and with good reason. They provide many benefits over other types of roofs, which is why metal roofing contractors have become more common. Although you'll have higher upfront costs, metal roofs will help you save money in the long run because of their high durability and low maintenance. Many homeowners typically have a lot of questions when it comes to metal roofing. At NexGen, we will take the time to explain the benefits of this superior material, explain our installation process, and present various options for your consideration. If you're planning on staying in your home for many years, installing a metal roof is a decision that will provide you with outstanding benefits.
Metal Roofing Benefits
If you're looking to upgrade your home, installing a metal roof with help from our highly trained metal roofing contractors is one of the best investments you can make. Metal roofs have myriad benefits that you probably have never even considered. These roofs can be made of several different types of materials, including zinc, tin, steel, copper, aluminum, and hybrid mixtures. Here are the top benefits that will make accomplishing the switch to metal an easier task.

Increased Energy Efficiency
Homeowners concerned about their energy usage love metal roofs. Industry studies show that you'll spend about 40% less on energy in the summer and 15% in the winter with a metal roof in place. Light color roofs are especially good at reflecting solar radiation into the atmosphere.

Durable and Long Lasting
Metal roofs have a life span of 40 to 70 years, much longer than the average 12 to 20 years for asphalt roofs. They are also resistant to fire and impacts and won't incur storm damage like broken or missing shingles when high winds and severe storms blow through.

Metal Roofing is Cost Effective
Although metal roofs require the specialized services of metal roofing contractors with more upfront costs, they're highly cost-cost effective. If you stay in your home over the roof's lifetime, you'll have a perfectly sound covering over your home while your neighbors will replace theirs two to five times over the same period.
Improved Property Value
Installing a metal roof is one of the best home improvement projects you can accomplish. Homeowners in the eastern United States, including our service area in Pennsylvania and New Jersey, get an average return of 95.5%, increasing your home's value, even if you only plan to live there for several years.
Potential for Lower Insurance Premiums
Here is one you probably never considered. Having our metal roofing contractors install a new metal roof may help you save on homeowners insurance premium costs. Some insurance companies offer discounts of as much as 35% because they are more durable and less prone to damage from severe storms and the elements.
WHY CHOOSE US?
When it comes to hiring a roofing contractor, NexGen Exterior Home Remodeling stands out above the competition.
WE'VE GOT THE TOOLS
No matter what your project, we have the latest state-of-the-art tools to get the job done.
CERTIFIED EXPERTS
Our experts are trained to help bring your visions to life and meet all of your home needs.
COMPETITIVE PRICING
We provide the highest quality work at competitive prices to help you stick to your budget.
LABOR WARRANTY
We know you'll love the work our professionals do, and we offer the warranty to prove it.
YEARS OF EXPERIENCE
Our specialists have the right knowledge and skills to help you improve (and love) your home.
GREAT SUPPORT
Whether you invest in a remodel or an improvement, we'll be with you from start to finish.
Types of Metal Roofing We Install
As experienced metal roofing contractors, we can customize and install many different types to meet your needs and your home's architectural style. NexGen sells and installs metal roofs in many different colors, styles, and finishes. These attractive roofs can mimic the look of asphalt, shakes or shingles, cedar, tile, or slate. Choose from a variety of standing seam styles, with lighter color roofs offering the greatest reflectivity and energy efficiency.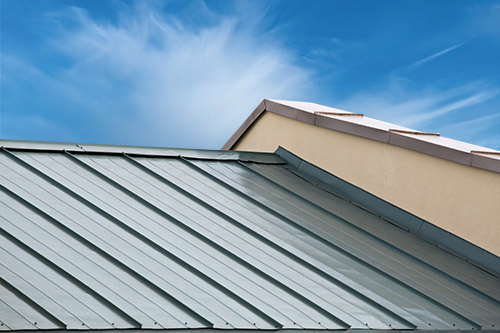 Standing seam metal roofing has become one of the most popular types of roofs installed by our talented metal roofing contractors. It's a concealed fastener panel system that features vertical legs with flat panels in between. The raised legs hide the fasteners, serving a two-fold purpose. Hidden fasteners make the installation look cleaner and more attractive, but they are also protected from the elements, so they won't rust over time.
The result is a durable and weather-tight roof attached to the roof deck with clamps, making it free from nail holes or other fasteners that could allow moisture in. These highly durable roofs also have special clips that will enable thermal roof expansion and contraction for extreme temperature changes.
Metal Roofing Myths
For years, metal roofs have been associated with industrial buildings, often considered inappropriate for residential applications. Even with their recent gain in popularity because of their myriad benefits, metal roofs still maintain some stubborn myths. Let's debunk them!
>

Metal Roofs are Loud
You probably think metal roofs are noisy when it rains, but they are no noisier than other roof types. The roof deck, combined with its underlayment, is quiet and insulation helps to dampen noise. They are also better at keeping out exterior noise than asphalt roofs.
>

Metal Roofs Get Too Hot or Cold
Metal roofs reflect solar heat, dispersing it into the atmosphere. Light color metal roofs can run 50 to 60 degrees cooler than dark asphalt shingles. When properly installed by our metal roofing contractors, they will absorb heat in the winter, leading to more consistent interior temperatures.
>

Metal Roofs Dent Easily
Large hail can damage any roof type, yet metal is stronger than asphalt when it comes to damage. Asphalt roofs have granules that can come off in a storm, making them more prone to damage. Metal roofs are manufactured to withstand hail damage.
>

Metal Roofs Conduct Electricity
Although metal conducts electricity, metal roofs are no more likely to attract lightning than other roof types. Lightning strikes what its closest to, usually trees or telephone poles. Metal roofs are non-combustible, too, so it won't catch fire even if it does get hit.
Call the Metal Roofing Contractors at NexGen
Not all metal roofing contractors are created equal. When you work with the expert metal roofing contractors at NexGen Exterior Home Remodeling, you'll get experienced technicians who know the intricacies of properly installing this aesthetically pleasing protection for your home. Contact us today at 215-277-7630 to schedule your free consultation.
RECENT EXTERIOR REMODELING PROJECTS
For years, NexGen Exterior Home Remodeling has been helping homeowners update, redesign, or transform their homes into ones they can enjoy for years to come. Take a look at some of our most recent exterior renovation work by our experts.