Professional Deck Replacement
Improve Your Outdoor Living with A New Deck
There's no better way to take full advantage of your outdoor living space than with a new deck. A deck gives you the ability to entertain friends and family or relax peacefully in your own backyard. If you already have a deck but it's seen better days, NexGen Exterior Home Remodeling is proud to offer deck replacement services in the Greater Philadelphia Area and in New Jersey. Our talented team of home improvement experts can expand or redesign your current deck to fit the needs of your family.
NexGen's experts offer a wide range of deck replacement services, and you have your choice of materials from traditional wood to Trex composite decking. Whether you need a new deck or you want to upgrade your existing one, our talented home renovation contractors have the tools and knowledge to get it done. We can even build custom decks around pools and hot tubs. Best of all, we provide these services at competitive prices. Reach out today for a free estimate!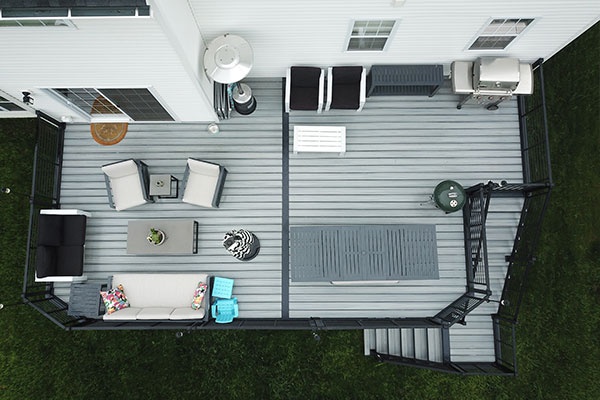 Hand Crafted Decks Built to Last
There are a variety of companies in the area that likely offer deck replacement services, so why should you choose NexGen Exterior Home Remodeling? Homeowners choose us because we build handcrafted decks that last. We don't just want to make your deck beautiful, although it will be, but we also want to build you a custom deck that's perfect for your family's needs that will last for years to come.
We've been the most trusted deck installation company in PA and NJ for years. Homeowners across the area trust our expert's recommendations because they know we have seen and done it all. We know custom decks are a worthwhile investment that increases not only the curb appeal of your home, but the value as well. Whether you're just trying to upgrade the appearance of your home or increase its value to sell later, a custom deck is a great way to achieve both.
Expertly Installed Decks That Match Your Style
When you invest in a new deck installation, we want you to have the outdoor oasis that you've always dreamed of. That's why we offer multiple material choices when it comes to our deck replacement services. Our home improvement experts can build a new deck out of traditional wood or composite materials depending on your preference. Are you unsure about which type of deck is right for you? Here are some of the advantages and disadvantages of each type.
The beauty that comes from a traditional, natural wood deck is hard to replicate. As much as composite decks strive to achieve this look, there's a certain charm that you can only get from the real thing. Oftentimes, homeowners describe real wood as having a "warmth" to it, which composite materials fail to capture.
Yet another benefit of choosing traditional wood over composite deck replacement is the price tag. Depending on the type of wood selected they can be a more affordable option than composite decks.
That said, it's important to keep in mind that classic wood decks require ongoing maintenance over the years. While the upfront cost tends to be lower, you'll have to invest on the upkeep in the long run. If you prefer a more hands-off approach to deck maintenance, this is a major drawback of choosing traditional wood over composite deck boards.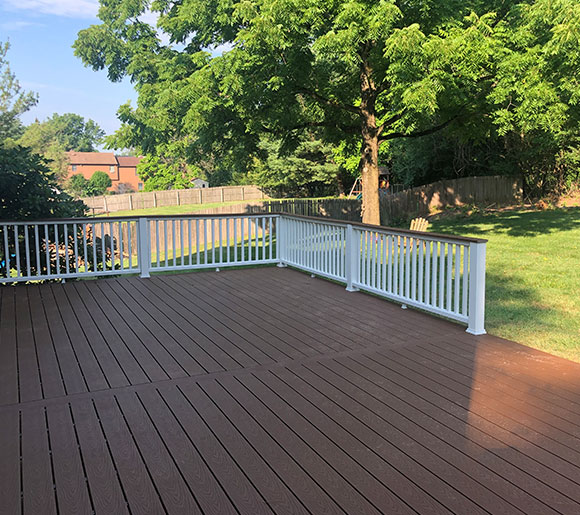 If you want your deck to stand the test of time, you can't go wrong with a Trex composite deck. To put it simply, Trex composite decking is more durable and doesn't require as much maintenance as a traditional wood deck. On top of that, this material is a much more eco-friendly solution to your deck replacement needs.
While Trex composite decks do tend to have a higher upfront cost than traditional wood decks, you'll enjoy a variety of other benefits. For example, Trex composite decks don't warp, fade or rot over time. And they never splinter! On top of that, we are a TrexPro® Platinum builder that can offer a 10-year labor warranty that other contractors can't.
Trex® Makes More Than Just Decking
Not only are we able to install long-lasting Trex® deck boards, but also railings, stairs, lighting, and more.

WE'VE GOT THE TOOLS
No matter what your project, we have the latest state-of-the-art tools to get the job done.
CERTIFIED EXPERTS
Our experts are trained to help bring your visions to life and meet all of your home needs.
COMPETITIVE PRICING
We provide the highest quality work at competitive prices to help you stick to your budget.
LABOR WARRANTY
We know you'll love the work our professionals do, and we offer the warranty to prove it.
YEARS OF EXPERIENCE
Our specialists have the right knowledge and skills to help you improve (and love) your home.
GREAT SUPPORT
Whether you invest in a remodel or an improvement, we'll be with you from start to finish.
Upgrade Your Outdoor Space With Deck Replacement Services From NexGen
Deck replacement services from NexGen are an excellent option if you currently have a deck that doesn't meet your family's needs. Calling our team for help is the easiest way to upgrade your deck to turn it into something that you can be proud of. Beyond just wanting a deck that better suits your needs, age and deterioration are other common reasons homeowners turn to us for help.
Some individuals also wish to upgrade to a more eco-friendly material, such as composite decking. That's a great reason to opt for a deck replacement. If you're sick of doing maintenance and upkeep on a traditional wood deck, upgrading to a composite material is the ideal way to improve your outdoor living space.
Why Replace Your Deck?
Rotting Boards & Posts
Increase Living Space
More Functional Layout
Choose New Materials
Increase Your Home's Value
Hire NexGen as Your Custom Deck Replacement Contractor
Do you need a custom deck contractor that you can count on? Do you want a deck installer with experience in creating custom decks using both traditional wood and composite materials? If so, you can't go wrong with NexGen Exterior Home Remodeling. We take pride in the deck replacement services that we offer. We strive to get the job done right the first time and at a price that you can afford. We want to make your deck dreams become a reality. Don't wait any longer to upgrade your deck. Reach out to NexGen today for a free estimate!
RECENT CUSTOM DECK REPLACEMENT PROJECTS
NexGen Exterior Home Remodeling loves creating beautiful outdoor living spaces for properties that are built to last. Take a look at some of our most recent transformations installed by our deck replacement experts.
FREQUENTLY ASKED QUESTIONS
At NexGen Exterior Home Remodeling, we have heard many different questions from home owners. We thought it would be helpful to our customers if we listed some of these common questions and provided answers.
Q: Do you work with other composite decking products?
A: Currently we only install Trex® composite decking products.
Q: What is Trex® made out of?
A: Trex® is made out of 95% recyclable materials, including recycled plastic and wood pulp.
Q: How often should I re-stain my wood deck?
A: Every few years. Wood decks exposed to a lot of direct sunlight will take a beating from UV rays and need all the help they can get against water damage.
Q: Can you replace my old deck?
A: Yes, we can provide a quote that will include removal and disposal.
Q: Can you build a lanai for my new deck?
A: You bet! Our deck builder be happy to customize your deck for you.
Q: Are you licensed and insured?
A: Yes. Our southeastern PA & NJ deck and porch builders are licensed and insured in the states of Pennsylvania and New Jersey.
Professionals Available 24/7