Deck Installation Contractors
Take Control of Your Outdoor Space
Your deck is much more than a place to relax. Your outdoor space has the potential to be a vibrant hub for parties and gatherings, a venue for events, or an extension of your living space. Your deck may become damaged after years of use and harsh weather conditions, necessitating a replacement. To get the deck you want, you'll need to work with a reputable deck installation company. Fortunately, the experts at NexGen Exterior Home Remodeling are here to assist you with your deck replacement plans.
When you choose NexGen Exterior Home Remodeling, you will get high-quality craftsmanship, excellent customer service, and a team committed to making your life better. Our professionals have decades of experience installing wood and composite decks, and we provide a labor warranty with every deck installation. Not to mention that we offer some of the most affordable rates in Southeastern Pennsylvania and South Jersey.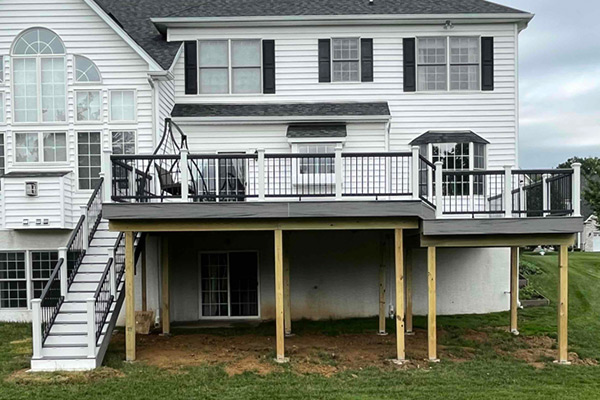 Custom Porch and Deck Installation
When looking for a deck installation company, you may wonder which one will be honest in its pricing and provide the best service. You will be treated with respect and honesty from start to finish if you choose NexGen Exterior Home Remodeling. We are on your side! Many homeowners prefer NexGen because we build durable handcrafted decks and stand behind our work. We will not only build you a beautiful deck, but we will also ensure that it is built properly and exactly how you want it so we can bring your vision to life.
Many companies boast about their experience and high-quality materials, but our track record of success speaks for itself. Homeowners throughout the area rely on our expertise because we have worked on decks of all shapes, levels, and sizes, with no plan being out of reach. A new deck is a worthwhile investment that adds value to your life and is an excellent marketing tool when selling your home. A reputable deck installation company, such as NexGen Exterior Home Remodeling, will ensure that you are satisfied with each step of the process.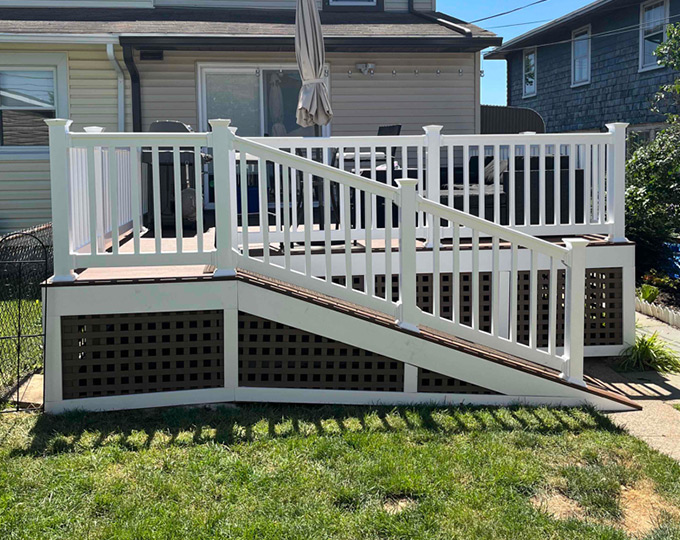 Get the Entertainment Space You Always Wanted
NexGen Exterior Home Remodeling's experienced construction team makes certain that each customer's deck is perfect. Our deck installation company will work with you to understand your goals and budget before assisting you in selecting the materials for your deck. You can build a low-cost deck out of wood or use Trex decking material. Our professionals will execute each deck with precision and care, regardless of the material used.
While Trex decking naturally lasts longer, there is a traditional strength and beauty to a wood deck. This classic look and feel is unrivaled by composite decking. Aside from the cost, many homeowners prefer wooden decks to composite decking. Our deck replacement contractors have extensive experience working with wooden decks and can construct your dream deck exactly how you want it. Wood decks are typically less expensive, which is ideal for a low-budget deck, but it is important to remember that wood decks do require maintenance to ensure longevity. If you have to pay for upkeep on your wooden deck on a regular basis, you should consider going composite.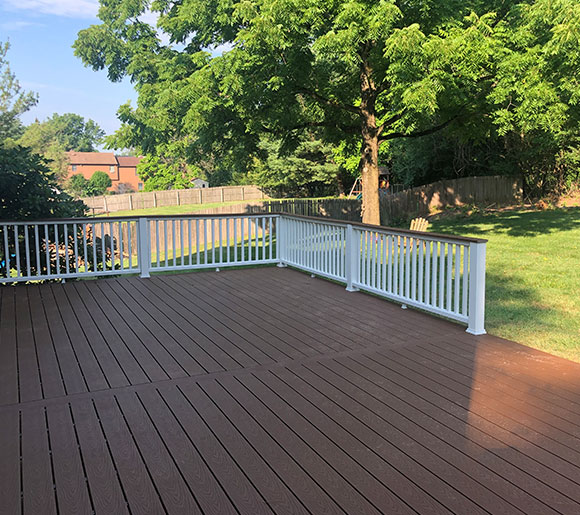 When compared to wooden decks, Trex composite decking is incredibly durable and requires much less maintenance. For your deck replacement needs, this material is very eco-friendly. Although the initial cost of this material is slightly higher than that of traditional wood decks, there are numerous other advantages. These decks will never fade, rot, or warp. Because of their exceptional durability, Trex decks can end up saving you money in the long run. This deck will withstand even the harshest weather conditions while also adding beauty and value to any home! In addition, as a TrexPro® Platinum builder, we can provide a 10-year labor warranty that other contractors cannot.
WE'VE GOT THE TOOLS
No matter what your project, we have the latest state-of-the-art tools to get the job done.
CERTIFIED EXPERTS
Our experts are trained to help bring your visions to life and meet all of your home needs.
COMPETITIVE PRICING
We provide the highest quality work at competitive prices to help you stick to your budget.
LABOR WARRANTY
We know you'll love the work our professionals do, and we offer the warranty to prove it.
YEARS OF EXPERIENCE
Our specialists have the right knowledge and skills to help you improve (and love) your home.
GREAT SUPPORT
Whether you invest in a remodel or an improvement, we'll be with you from start to finish.
Trust NexGen with Your Home
NexGen is the deck installation company to call if you want a new deck that meets your and your family's needs. NexGen deck replacement services are an excellent choice for transforming your outdoor space into something to be proud of. No other deck installation company will devote as much time and effort to your deck as NexGen will. Age, deterioration, additional living space, and other factors may necessitate deck replacement.
Why Install a New Deck
Long-Lasting Materials
Increase the Size of Your Living Area
Add / Remove Features
Existing Decking Damage
Improve Home Value
Expert Deck Design & Installation
When looking for a custom deck installer it's hard to find someone with more experience and care than  NexGen Exterior Home Remodeling. We are a deck installation company that genuinely cares about creating a beautiful, long-lasting deck exactly to your specifications. We take pride in our work, and our decking contractors will construct a deck that you can enjoy for many years. We have deck options to fit any budget and will work with you to find the best solution for your needs and goals. To get started, give us a call or fill out our form.
RECENT CUSTOM DECK REPLACEMENT PROJECTS
NexGen Exterior Home Remodeling loves creating beautiful outdoor living spaces for properties that are built to last. Take a look at some of our most recent transformations installed by our deck replacement experts.
FREQUENTLY ASKED QUESTIONS
At NexGen Exterior Home Remodeling, we have heard many different questions from home owners. We thought it would be helpful to our customers if we listed some of these common questions and provided answers.
Q: Do you work with other composite decking products?
A: Currently we only install Trex® composite decking products.
Q: What is Trex® made out of?
A: Trex® is made out of 95% recyclable materials, including recycled plastic and wood pulp.
Q: How often should I re-stain my wood deck?
A: Every few years. Wood decks exposed to a lot of direct sunlight will take a beating from UV rays and need all the help they can get against water damage.
Q: Can you replace my old deck?
A: Yes, we can provide a quote that will include removal and disposal.
Q: Can you build a lanai for my new deck?
A: You bet! Our deck builder be happy to customize your deck for you.
Q: Are you licensed and insured?
A: Yes. Our southeastern PA & NJ deck and porch builders are licensed and insured in the states of Pennsylvania and New Jersey.
Professionals Available 24/7
RECENT EXTERIOR REMODELING PROJECTS
For years, NexGen Exterior Home Remodeling has been helping homeowners update, redesign, or transform their homes into ones they can enjoy for years to come. Take a look at some of our most recent exterior renovation work by our experts.