Every homeowner dreams of the perfect deck. A place to cookout and enjoy the day with family and friends. And who doesn't dream of the perfect porch, a place to relax and read a book, or to drink your morning coffee and read the paper? Trust the deck builder experts at NexGen for your next project.
Recent advances in building materials have made this an even more compelling dream. Made of 95% recyclable materials, Trex® eco-friendly composite decking eliminates all the hassles of traditional wood-built decks and porches.
For example, Trex® doesn't require any maintenance. There's no need to re-stain your deck or porch every few years. Best of all, Trex® will last a lifetime. You don't have to worry about completely replacing your deck or porch every decade.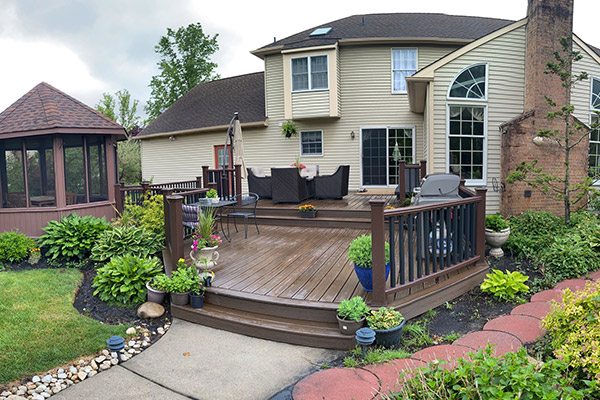 Signs You Need a New Deck
Even with regular maintenance, no deck will last forever, and if your deck is nearing the end of its life, there are probably already signs that the time for a new custom deck has come. Those include spongy sections, railing damage, and any areas of the deck that sag, shake, or wobble. You may also want to replace your deck because your family is growing and it's no longer big enough or because you're selling your home and a new deck will help it to sell faster and provide a great return on investment.
Upgrade Your Deck
A new custom deck is an excellent way to improve your home. The perfect deck will add functionality to your house and let you get more out of your outdoor areas whether you're entertaining or enjoying some quiet time. It will also enhance the curb appeal of your home and add real value to your property. If you currently have a deck that is in good shape but perhaps isn't exactly what you want, replacement isn't the only option. NexGen can alter the style, shape, size, and features of your existing deck as well.
Custom Deck Builder Solutions
We approach custom deck installation the way you would approach building a home—by starting with a solid foundation. By cementing the footings (posts), our deck builder ensures that your deck will never lean or suffer wind damage.
Once the foundation is set and the concrete is dried, we'll start building the frame: Carefully fastening the crossbeams to the posts and securely housing the joists into heavy-duty metal hangers, we'll ensure that you never have to worry about a saggy, uneven deck.
When the frame and foundation are finished, we'll begin adding the decking and finish them off with stain (Wood) or with composite deck sealant (Trex®).
Free Consultation and Estimate
If you're interested in a new custom deck or replacement or repair, NexGen is happy to provide a free consultation. We'll send one of our consultants to your home to perform a thorough assessment and inspection. We can answer any questions that you may have, explore your material and design options with you, and provide you with an accurate estimate for whatever work you want to be performed.
WE'VE GOT THE TOOLS
No matter what your project, we have the latest state-of-the-art tools to get the job done.
CERTIFIED EXPERTS
Our experts are trained to help bring your visions to life and meet all of your home needs.
COMPETITIVE PRICING
We provide the highest quality work at competitive prices to help you stick to your budget.
LABOR WARRANTY
We know you'll love the work our professionals do, and we offer the warranty to prove it.
YEARS OF EXPERIENCE
Our specialists have the right knowledge and skills to help you improve (and love) your home.
GREAT SUPPORT
Whether you invest in a remodel or an improvement, we'll be with you from start to finish.
We Install All Types of Decks
NexGen Exterior Home Remodeling proudly installs many different types of custom decks including pressure-treated and Trex®.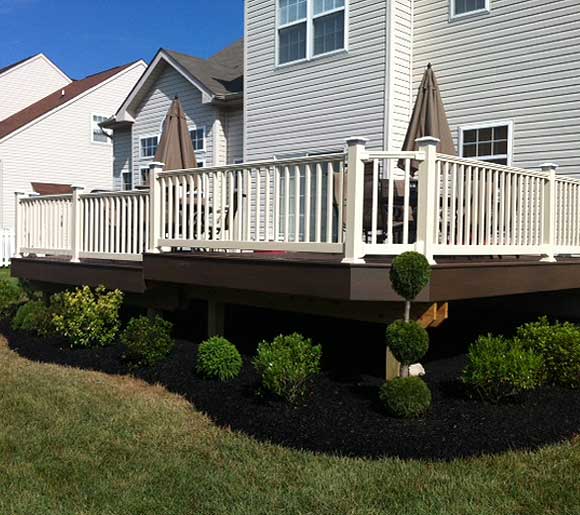 Even with the development of composite decking, some people still prefer the classic look and feel of wood. We understand. There's a special quality to wood—a natural charm not emulated by composite decking.
While less costly initially than a Trex® deck or porch, wooden decks and porches still require a lot of maintenance (and money) for their longevity. But don't let that stop you from building your custom deck or porch.
With proper maintenance, a wooden deck or porch will still last a long time and provide an excellent escape for your family and friends.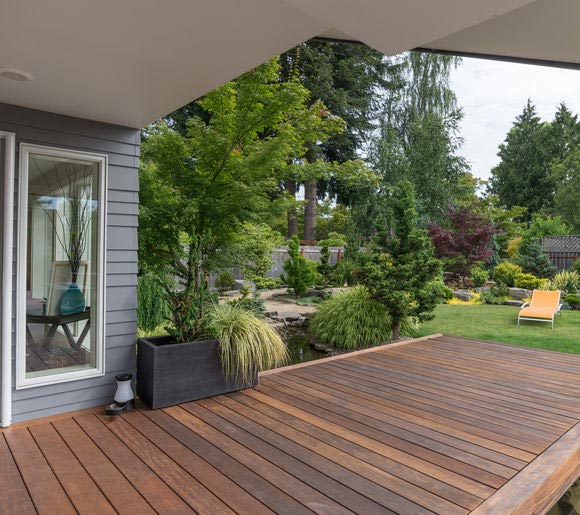 Modern decking solutions from Trex® provide the perfect combination of luxury and durability. Traditional wood decks require more maintenance and are prone to rot, fading, warping, and even termite damage, often leading to costly repairs. As a TrexPro® Platinum builder, NexGen Exterior Home Remodeling can give you peace of mind and save you time and money with a custom deck design and installation.
When you choose the superior craftsmanship of Trex® decking, you won't have to worry about staining, fading or even dreaded splinters. The composite materials found in these products are guaranteed to hold up in the harshest conditions, providing you with the perfect outdoor living space all year long. From deck additions to decorative walkways, Trex® is the product to trust when you want to add value and lasting beauty to your home.

Custom Deck Installation and Replacement
NexGen can design and build a custom deck for you that improves your outdoor living, enhances the functionality and look of your home, and improves your property value. If you currently have a deck, we can add to it, replace it just as it was but with new materials, or completely redesign it so that it meets your needs now. Our team offers deck replacement services for all types of decks, and we can install your new deck or add-on using wood or composite decking.
Deck Maintenance and Repair Services
You can also count on NexGen to keep your custom deck in a safe condition while also looking great over the years. Whether your deck is made with wood or composite materials, we can come out to your home and perform a thorough inspection. We'll make professional maintenance and deck repair recommendations. We can then carry out those repairs using premium materials in order to extend the life of your deck and help you maximize your investment in it.
Trust NexGen for Your Custom Deck
Many homeowners throughout Pennsylvania and New Jersey have trusted NexGen for custom deck installation, and we welcome the opportunity to design and build the perfect custom deck for your home. Call us today or use the contact form on our website to request a free quote.
FREQUENTLY ASKED QUESTIONS
At NexGen Exterior Home Remodeling, we have heard many different questions from home owners. We thought it would be helpful to our customers if we listed some of these common questions and provided answers.
Q: Do you work with other composite decking products?
A: Currently we only install Trex® composite decking products.
Q: What is Trex® made out of?
A: Trex® is made out of 95% recyclable materials, including recycled plastic and wood pulp.
Q: How often should I re-stain my wood deck?
A: Every few years. Wood decks exposed to a lot of direct sunlight will take a beating from UV rays and need all the help they can get against water damage.
Q: Can you replace my old deck?
A: Yes, we can provide a quote that will include the removal and disposal of your old deck boards.
Q: Can you build a lanai for my new deck?
A: You bet! Our deck builder be happy to customize your deck for you.
Q: Are you licensed and insured?
A: Yes. Our southeastern PA & NJ deck and porch builders are licensed and insured in the states of Pennsylvania and New Jersey.
Professionals Available 24/7