Professional Siding Repair Contractors Near You
Restore the Look & Protection of Your Siding
NexGen Exterior Home Remodeling is an established and trusted siding repair company serving homeowners in both Pennsylvania and New Jersey. Our company is fully licensed and insured in both states and has siding specialists who are highly skilled and experienced. Many homeowners throughout the region have relied on NexGen to repair their siding because we deliver impeccable workmanship, stand behind our work, and take great pride in exceptional customer service and care.
Common Causes of Siding Damage
Severe weather is the most common reason homes in our area require siding repair. Siding can withstand great abuse from the elements but can be damaged suddenly by hail or even strong winds that propel lawn furniture and other objects into it. Another common issue is a lack of maintenance. Siding does take substantial abuse and needs to be cleaned and painted if applicable and possibly have minor repairs performed. Improper installation is unfortunately a prevalent problem that leads to a wide range of issues. Other problems include pest infestations and also excess moisture, which is why it's important to have an effective gutter system and maintain clearance between your siding and trees and bushes.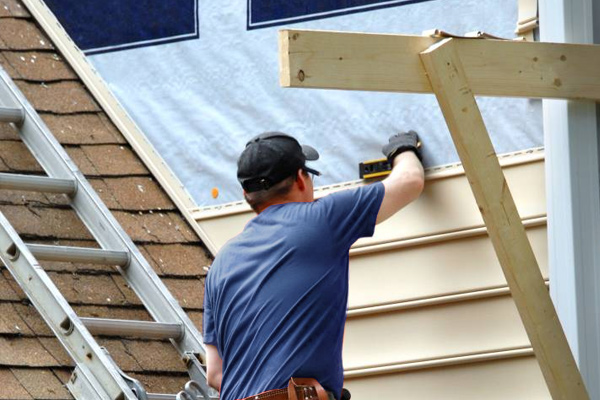 Emergency Siding Repair
Siding damage should be corrected as soon as possible in order to prevent the damage from worsening and the repair from becoming more expensive. NexGen offers emergency siding repair services and will make you a priority. Even if we can't repair the siding right away due to the time or ongoing severe weather, we can at least stabilize the situation so that there's no additional damage to your home.
WHY CHOOSE US?
When it comes to hiring a vinyl siding contractor, NexGen Exterior Home Remodeling stands out above the competition.
WE'VE GOT THE TOOLS
No matter what your project, we have the latest state-of-the-art tools to get the job done.
CERTIFIED EXPERTS
Our experts are trained to help bring your visions to life and meet all of your home needs.
COMPETITIVE PRICING
We provide the highest quality work at competitive prices to help you stick to your budget.
LABOR WARRANTY
We know you'll love the work our professionals do, and we offer the warranty to prove it.
YEARS OF EXPERIENCE
Our specialists have the right knowledge and skills to help you improve (and love) your home.
GREAT SUPPORT
Whether you invest in a remodel or an improvement, we'll be with you from start to finish.
Experience the NexGen Exterior Home Remodeling Difference
When you need siding repair, choose the team at NexGen because we have many years of experience and deliver superior craftsmanship that stands the test of time. Our siding specialists are highly skilled and passionate tradespeople. We only use the highest-quality siding materials available, and we'll ensure a uniform finish in order to restore your home's curb appeal. We're proud that much of our new business comes to us through referrals, and our commitment to delivering not just great work but a great customer experience is reflected in our BBB accreditation with an A+ rating.
Siding Inspections
If your home may need siding repair, call NexGen for an inspection. We'll send one of our expert siding inspectors to your home to perform a thorough assessment. Our inspector will provide you with a professional and honest recommendation and will answer any questions that you may have. If you choose to move forward with repair or replacement, our inspector will provide you with an upfront and accurate estimate.
Our siding services aren't limited to siding repair. NexGen offers a full range of siding installation and replacement services. We install siding materials by CertainTeed® and Harvey Building Products® and are certified by both manufacturers, which among other things allows us to offer you the best warranties provided by these companies. NexGen can replace your existing siding with a similar material, or we can convert you to another material regardless of the siding you currently have.
Stucco siding repair and replacement is expensive and time intensive, but NexGen offers an alternative, which is the installation of new siding over your old stucco. As long as the existing stucco is sound, we can prep it and then install new siding in manner that creates a seal and will last just as long as if the stucco had been removed prior to the new siding installation.
Trust NexGen for Expert Siding Repair
When you need siding repair, don't leave the job to just anyone. Trust a company with a reputation for delivering impeccable siding restorations. Call us today or contact us online to schedule your inspection or with any questions about our services.
FREQUENTLY ASKED QUESTIONS
At NexGen Exterior Home Remodeling, we have received many different siding questions from home owners. We thought it would be helpful to our customers if we listed some of these common questions and provided answers.
Q: My old vinyl siding warped within a few years. Is vinyl even worth it?
A: Cheap vinyl will warp, crack, and generally not last very long when exposed to lots of direct sunlight and rapid temperature changes. That's why we partner with CertainTeed® and strongly recommend their Monogram® line of vinyl siding.
Q: I have old siding on my home. Can you replace it?
A: Yes, we can give you a quote that covers removal and disposal.
Q: Will the Vinyl Siding have seams?
A: Yes, but proper installation will result in an appropriate overlap. We'll also layer the siding so the seams are much less noticeable. We can also use Monogram® XL siding, if you'd like to reduce seams.
Q: Will you replace rotten wood?
A: Yes, we'll go over the home's current walls and determine if any sheathing needs to be replaced. For homes with old siding that needs replacing, the quote doesn't include the replacement sheathing. We need to "open up" the home before we can determine what needs replacing.
Q:What type of house wrap do you use?
A: We use Typar® HouseWrap DW®, a vapor permeable membrane, which drains twice as fast and removes 100x more bulk water than other comparable house wraps.
Q: Are you licensed and insured?
A: Yes. NexGen Exterior Remodeling is licensed and insured in the states of Pennsylvania and New Jersey.
Professionals Available 24/7
RECENT EXTERIOR REMODELING PROJECTS
For years, NexGen Exterior Home Remodeling has been helping homeowners update, redesign, or transform their homes into ones they can enjoy for years to come. Take a look at some of our most recent exterior renovation work by our experts.