Professional Deck Repair Contractors
Keep Your Deck Looking Great
If your deck is in need of repair, turn to the experts at NexGen Exterior Home Remodeling. We perform deck inspections and offer a full range of deck repair services, and our team repairs decks made with wood and composite materials. Our company is fully licensed and insured. We have many years of experience repairing decks in Pennsylvania and New Jersey, and our team members are all highly skilled and experienced tradespeople who deliver superior craftsmanship that stands the test of time.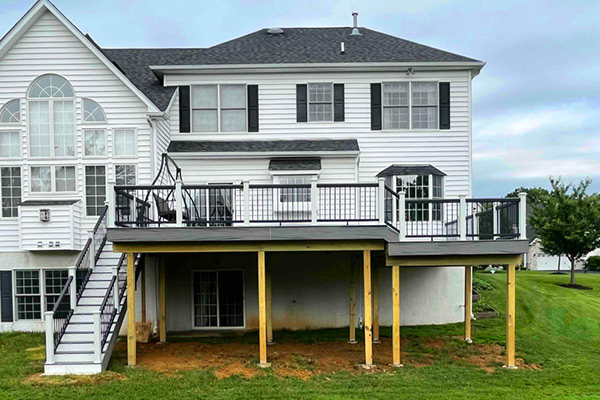 We Know Decks and Exterior Remodeling
NexGen is the premier deck repair contractor in the region. We restore decks to like-new condition. Your restored deck will enhance the curb appeal of your home and give you peace of mind that it will be safe and functional for many years to come. We take great pride not only in our workmanship but in the customer experience we deliver. NexGen wants to exceed your expectations and will never accept anything less than your complete satisfaction with the work performed, and that approach is reflected in our BBB accreditation with an A+ rating and the industry awards we've earned, such as the Super Service Award from Angie's List and the Best of and Elite Service awards from HomeAdvisor.
WE'VE GOT THE TOOLS
No matter what your project, we have the latest state-of-the-art tools to get the job done.
CERTIFIED EXPERTS
Our experts are trained to help bring your visions to life and meet all of your home needs.
COMPETITIVE PRICING
We provide the highest quality work at competitive prices to help you stick to your budget.
LABOR WARRANTY
We know you'll love the work our professionals do, and we offer the warranty to prove it.
YEARS OF EXPERIENCE
Our specialists have the right knowledge and skills to help you improve (and love) your home.
GREAT SUPPORT
Whether you invest in a remodel or an improvement, we'll be with you from start to finish.
The Benefits of Repairing Your Deck
All decks require maintenance over time, and you should ideally fix any wear and tear before it develops into a more expensive and potentially unsafe problem. Professional deck repair by NexGen extends the life of your deck and gives you confidence that your deck is safe and functional. It will improve the curb appeal of your home and add real value to your property. It's also an opportunity to adjust your deck. NexGen can personalize and retrofit your deck, including altering the size, adding new access points, and tailoring spaces to particular purposes, such as outdoor kitchens and entertainment centers.
The Types of Decks We Repair
NexGen works with all materials used to build decks in this region. Our team repairs and replaces both traditional wood decking and composite materials, such as Trex® decking boards.
NexGen has extensive experience using composite decking materials, and composite is a popular choice with area homeowners as it provides a lower total cost of ownership. It does cost more than wood decking up front, but composite materials last longer, require little to no maintenance and are more resilient when it comes to moisture, insects, and other factors that can undermine decking
While composite decking has certainly come a long way over the last 40 years in terms of aesthetics, real wood provides an unparalleled look and feel. It also offers more design options as you have many more choices when it comes to stains and paints. The other advantage of wood is that it's much cheaper to install, but you will have to replace your wood deck sooner than you would a composite deck.
Deck Inspections by NexGen
If you're concerned about the condition of your deck and think that you may need deck repair or replacement, call NexGen for an inspection. We'll have one of our decking experts come out to your home to perform a thorough assessment and provide you with a deck repair consultation. We'll answer all of your questions, explore your options, provide professional guidance, and give you an estimate you can trust.
If you're unsure whether you should repair your deck or replace it, NexGen is happy to perform an inspection and provide you with an honest and professional recommendation. If repair is the best course of action, we can explore your deck repair options with you. If it's better to replace your deck, we can explore replacement options with you, answer any questions that you may have, and provide an upfront and accurate estimate for a new deck built with either wood or Trex composite decking. We'll then design and build you a beautiful new deck that adds real monetary and functional value to your home.
Choose NexGen for Deck Repair
NexGen is the premier deck repair contractor in Pennsylvania and New Jersey, and we welcome the opportunity to restore your deck and retrofit it as needed. Call us today or contact us online to schedule a consultation or with any questions about the services we offer and the products we use.
RECENT DECK REPAIR PROJECTS
NexGen Exterior Home Remodeling loves creating beautiful, custom, hand-crafted decks for homeowners that are built to last. Here are some of our most recent transformations installed by our deck replacement experts.
FREQUENTLY ASKED QUESTIONS
At NexGen Exterior Home Remodeling, we have heard many different questions from home owners. We thought it would be helpful to our customers if we listed some of these common questions and provided answers.
Q: Do you work with other composite decking products?
A: Currently we only install Trex® composite decking products.
Q: What is Trex® made out of?
A: Trex® is made out of 95% recyclable materials, including recycled plastic and wood pulp.
Q: How often should I re-stain my wood deck?
A: Every few years. Wood decks exposed to a lot of direct sunlight will take a beating from UV rays and need all the help they can get against water damage.
Q: Can you replace my old deck?
A: Yes, we can provide a quote that will include removal and disposal.
Q: Can you build a lanai for my new deck?
A: You bet! Our deck builder be happy to customize your deck for you.
Q: Are you licensed and insured?
A: Yes. Our southeastern PA & NJ deck and porch builders are licensed and insured in the states of Pennsylvania and New Jersey.
Professionals Available 24/7
RECENT EXTERIOR REMODELING PROJECTS
For years, NexGen Exterior Home Remodeling has been helping homeowners update, redesign, or transform their homes into ones they can enjoy for years to come. Take a look at some of our most recent exterior renovation work by our experts.