Seamless Gutter Installation
Protect Your Property from Water Damage
If you need to replace your damaged or leaking gutters, NexGen Exterior Home Remodeling offers seamless gutter installation services so that you can ensure your roof, foundation, walls, and landscaping remain protected from water infiltration. It's important to have a properly functioning gutter system so you can avoid potentially serious damage to your property.
Seamless gutters are a completely custom solution for your home. The gutter professionals at NexGen measure your entire roofline and ensure that each section is perfectly fitted to trap and usher water away. We're able to remove your old gutters and outfit your home with a great-looking, high-performance seamless gutter system that will last. If you have any questions about whether or not seamless gutters are right for you, our specialists are just a click or call away.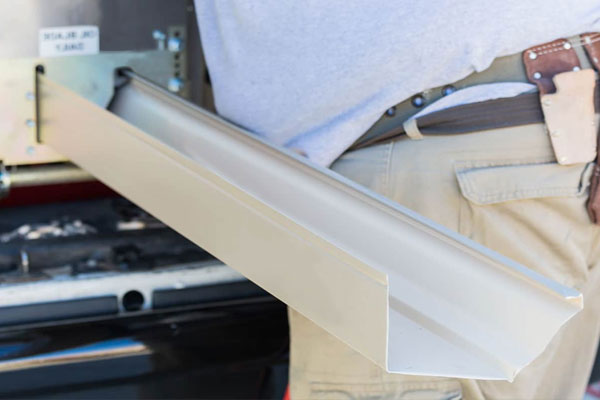 Benefits of Seamless Gutter Installation
Water will find a way through every possible opening. Without seams, there are far less places for water to leak out of your gutter system. Seamless gutters also are less susceptible to expansion, contraction, and other potential damaging effects because there are fewer weak points in their construction. The smooth channel also eliminates areas where debris can build up. Because they are more solidly constructed, there are less anchor points necessary since the weight of the gutter is better supported across the length of your roofline. They also provide a clean, appealing aesthetic that can improve your home's curb appeal.
Seamless Gutters vs. Sectional Gutters
Most commonly installed for affordability and universal use, sectional gutters consist of overlapping pre-cut sections. Because they have adjoining sections, there are several seams and joints that can potentially go experience issues, resulting in leaks, or other damage to your gutter system.
Seamless gutters still technically have seams but only at corners and downspouts. Lowering the number of joints in your gutter system makes them better equipped to survive the battering of the elements over time. Because they are a custom gutter solution, they are a little more expensive than traditional sectional gutters. Although they do provide more value when it comes to durability and appearance.
WHY CHOOSE US?
When it comes to seamless gutter installation services, NexGen stands out above the competition.
WE'VE GOT THE TOOLS
No matter what your project, we have the latest state-of-the-art tools to get the job done.
CERTIFIED EXPERTS
Our experts are trained to help bring your visions to life and meet all of your home needs.
COMPETITIVE PRICING
We provide the highest quality work at competitive prices to help you stick to your budget.
LABOR WARRANTY
We know you'll love the work our professionals do, and we offer the warranty to prove it.
YEARS OF EXPERIENCE
Our specialists have the right knowledge and skills to help you improve (and love) your home.
GREAT SUPPORT
Whether you invest in a remodel or an improvement, we'll be with you from start to finish.
Styles of Seamless Gutters We Install
Not only are seamless gutters incredibly durable, but they also look great as well. You will be able to choose from the traditional look of a K-Style gutter or the sleek profile of half-round gutters. Each provides a unique aesthetic and effective water collection. The home improvement experts at NexGen can install varying gutter sizes depending on your roof size and other needs.
K-Style Seamless Gutters
Available in 5", 6", and 7" sizes, K-style seamless gutters provide a traditional look for homes in the Delaware Valley. Typically, the 5" size is perfect for most residential properties. If you have oversized or steep sections of roofing, larger gutter sizes may be recommended. They come in a wide variety of colors to match any home aesthetic.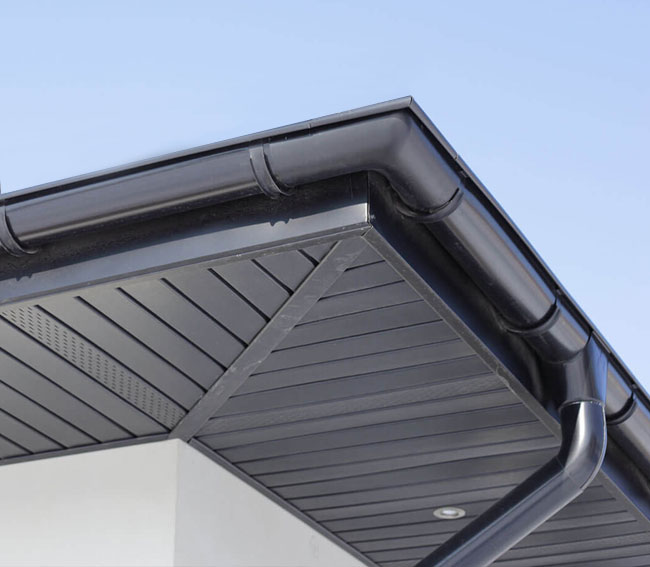 Half-Round Seamless Gutters
To add a high-end look to your home, half-round gutters can be installed in 5" and 6" sizes. The rounded shape provides a unique look and feel to just about any home. They are commonly found on older homes that have more curved architecture. They also come in several different colors for added customization and curb appeal.
How Seamless Gutters Are Installed
Designed to fit your home perfectly, seamless gutters are formed during the installation process. They start as a flat sheet of aluminum and are formed on the spot to the exact length needed for each section of your roofline. This completely custom fabrication ensures that there will be no gaps and even distribution of anchor points across your home.
Seamless Gutter Installation Process
Measure All Roof Lines
Form Gutter from Flat Metal
Add Cross Brackets
Attach to Fascia
Mount Downspouts
Choose NexGen for Your Seamless Gutter Installation
At NexGen, our goal is to improve every home we work on. Gutters are often a forgotten piece of the home protection puzzle, that's why we provide expert seamless gutter installation services. Keeping your home protected from water infiltration is very important. If you don't have gutters or your current gutters are damaged, contact us today for a free quote. Our gutter specialists are standing by to help you get the look and protection you desire for your home.
RECENT EXTERIOR REMODELING PROJECTS
For years, NexGen Exterior Home Remodeling has been helping homeowners update, redesign, or transform their homes into ones they can enjoy for years to come. Take a look at some of our most recent exterior renovation work by our experts.