NexGen Exterior Home Remodeling
NexGen Exterior Home Remodeling is the premier choice for home remodeling solutions in Pennsylvania and New Jersey. We take pride in our proven track record of excellent service, and we can't wait to add you to our family of satisfied customers! Our home remodeling contractors are true craftsmen and are dedicated to bringing your vision to life. Whether you need a roof replacement, vinyl siding installation, or anything in between, NexGen Exterior Home Remodeling has the right products from top manufacturers to get the job done on your schedule and within your budget.
We believe that the communities we serve are special, so our home remodeling contractors treat everyone like family. NexGen Exterior Home Remodeling is proud to represent the Delaware Valley and the surrounding region as a local hometown business that is focused on quality and driven by a desire for complete customer satisfaction. From our exterior home remodeling consultants to our installation technicians, our team works hard every single day to deliver unmatched service and quality in all that we do!
EXTERIOR REMODELING SERVICES
At NexGen, we specialize in exterior home remodeling and home renovations that give your property the look you've always wanted. Whether you're looking to complete a major renovation or would simply like an update, we offer professional services for your entire home that add both value and appeal. Our home remodeling contractors are ready to serve you with the best in roofing, siding, windows, doors, gutters, porch, and deck replacement and installation services. On top of that, our products are manufactured to the highest energy-efficiency standards to help you save on utility costs.
Hire a professional roofing contractor with the credentials to prove it. As CertainTeed® SELECT ShingleMasters™, we're uniquely qualified in the roofing industry to provide our customers with not only a high quality roof, but also with unique benefits like extended warranties.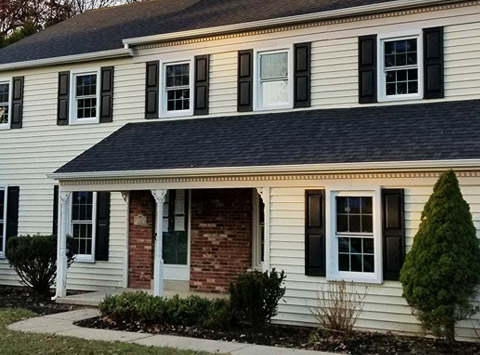 Home siding is the most cost-efficient home remodeling project available on the market today. Whether you're looking to overhaul your home's aesthetic, increase its energy efficiency, or help protect it from water damage, no other exterior home remodeling project will have such a profound impact for such a low cost.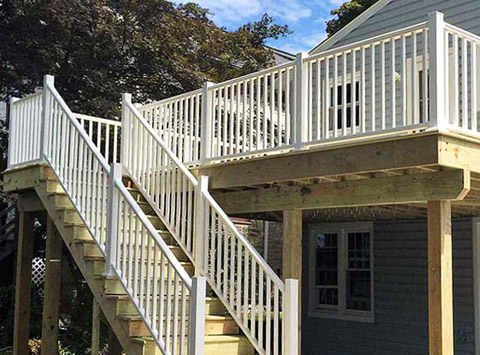 Enjoy the fresh air and beauty of your backyard – a nice quiet morning on your brand-new porch, or invite some friends over for a cookout on your brand new deck. If you want composite decking, we are TrexPro® Platinum builders. Our experts can create functional custom decks and porches which are perfect for your home.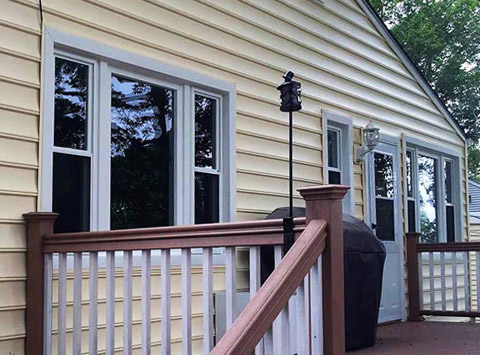 Our exterior home remodeling contractors can replace your old, energy inefficient windows with a modern alternative! You'll save money on your utility bills, drown out noise pollution, and protect your family from harmful UV rays with the next generation of energy efficient windows.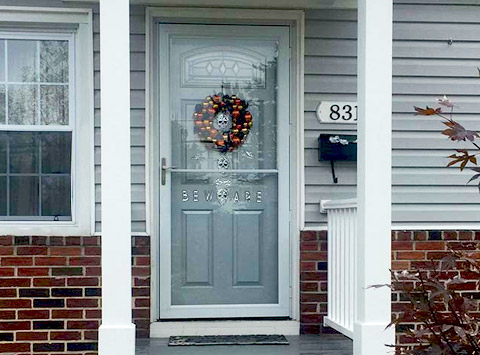 Add a touch of flair and increase your home's curb appeal with a beautiful, stylish Therma-Tru® fiberglass door with decorative glass side panels. Or, for the safety conscious, help protect your home and your family with a sturdy, heavy-duty steel door. Is your current door giving you trouble? NexGen is the trusted exterior home remodeling company for you.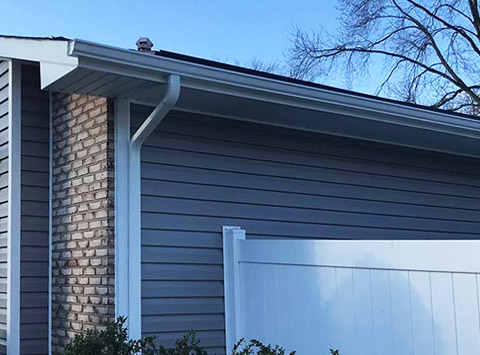 Gutters are one of the most important components in your home's water management system. Failure to properly plan for rainwater drainage can lead to serious long-term problems, like damage to your home's foundation. Replace your damaged gutters to safeguard your home from an exterior safety hazard and interior water damage.
Why Choose NexGen Exterior Home Remodeling?
You need a professional remodeling partner who listens and delivers on your vision by carefully crafting customized solutions. At NexGen Exterior Home Remodeling, we place value on earning our customers' business, and that's why we're the premier provider of home remodeling services in the Delaware Valley and the surrounding area. Simply put, we take into account everything that matters to you and create customized remodeling options that address all of your needs.
We've built our reputation on honesty, hard work, attention to detail, and a desire to provide nothing less than total customer satisfaction. We stand behind our workmanship and our products, and our team of experienced home remodeling contractors can't be beat! Specializing in roofing, siding, window, door, gutter, porch and deck replacement and installation services, NexGen has your entire home covered from top to bottom.
When you partner with our home remodeling contractors , you receive a range of options to fit your budget, free estimates, and scheduling that takes into account your lifestyle. We make it easy to get the look you want, the protection your home deserves, and quality name brand products you can afford.
Featured on Tough Love with Hilary Farr
ON TIME
•

ON BUDGET

•

ON YOUR SIDE
These are the words we live by.
Our Remodeling Experts Make the Difference
Going the extra mile is what we do best. All of our home remodeling contractors are trained, licensed, and insured to give you peace of mind. We treat your home as if it were our own, and we're happy to provide you with whatever you need to make your home remodeling experience one you'll be happy to share with friends and family. Learn more about our core beliefs to see how we are dedicated to serving our extended family, the community.
Express Your Personality and Show Off Your Style
Remodeling your home is the perfect way to both express your unique style and enjoy the comforts of a newly upgraded house. Whether that means replacing old windows with the latest in secure window technology or adding a porch to your home where you can relax and watch the world go by with family and friends on a warm afternoon, we have the products and experience to provide you with exactly what you're looking for. Our home remodeling contractors can work with virtually any existing home structure. Our solutions are the perfect complement to homes of all sizes, ages and conditions.
RECENT EXTERIOR REMODELING PROJECTS
For years, NexGen Exterior Home Remodeling has been helping homeowners update, redesign, or transform their homes into ones they can enjoy for years to come. Take a look at some of our most recent exterior renovation work by our experts.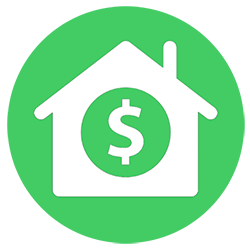 Special Financing Options & $0 Down
Convenient Financing Available With Approved Credit Through Wells Fargo. For additional information, check out our financing page
NexGen Exterior Home Remodeling is neither a lender nor a broker. All financing is provided by 3rd party lending institutions under the terms and conditions of each lender. All applications are subject to approval through credit, income and residency verification. All advertised finance terms, rates and payments are subject to change without notice. Advertised terms are solely to be used as estimating tools, actual terms will be disclosed at time of approval. Not all applications will be approved for all programs. NexGen Exterior Home Remodeling does not assist with, counsel, or negotiate financing other than submitting credit applications on behalf of our customers to the lender. Approved applications become customers of the lender and will make payments directly to lender. Lender has final say to approve or decline of an application based on fair lending guidelines.
CONTACT US
ABOUT A PROJECT
Are you interested in a home improvement project? Don't hesitate to give us a call or fill out our contact form. We'll discuss what you envision for your home and how we can get you started as quickly as possible.