Flat Roof Replacement Experts
Protect Your Home with a New Flat Roof
At NexGen Exterior Home Remodeling we know residential roofing. Our skill and expertise extend beyond the typical pitched asphalt shingle roof. There are many homes in the greater Philadelphia area that have flat roofs, so we chose to become one of the few local roofing contractors that provide residential flat roofing replacement services. We can replace your flat or low-slope roof with modified bitumen membrane and depending on your slope, traditional asphalt shingles. If you have a flat roof that needs replacement, NexGen is here for you.
Our team of skilled roofers can remove your old, worn-out roof, check for any underlying issues and install a brand new flat roof that will keep you and your home protected for years to come. Give us a call or request a free quote online to get started on your flat roof replacement.
Trusted Local Roofers in PA & NJ
We are fully licensed, insured, and certified to install Self-Adhered SBS-Modified Bitumen Roof Systems in Pennsylvania and New Jersey. We use only high-quality materials that come with excellent manufacturer warranties so that you know your roof will last. We are also proud to offer a one-year labor warranty with every exterior home remodeling project.
We take pride in being a part of the community and customer service is always top of mind for each of our roofing contractors. If you are unsure of the type of flat roof you have or whether or not it needs to be replaced, our expert roofers are standing by answer any questions you may have.
Types of Flat Roofing We Install
When it comes to flat roofs, we install a few different types of materials to protect your home. For low slope roofs, we can install traditional shingles (though not always recommended in this case), roll-on asphalt roofing, or modified bitumen flat membrane. Each of these has its benefits from longevity to cost-effectiveness so be sure to speak with one of our roofing experts to discuss your options.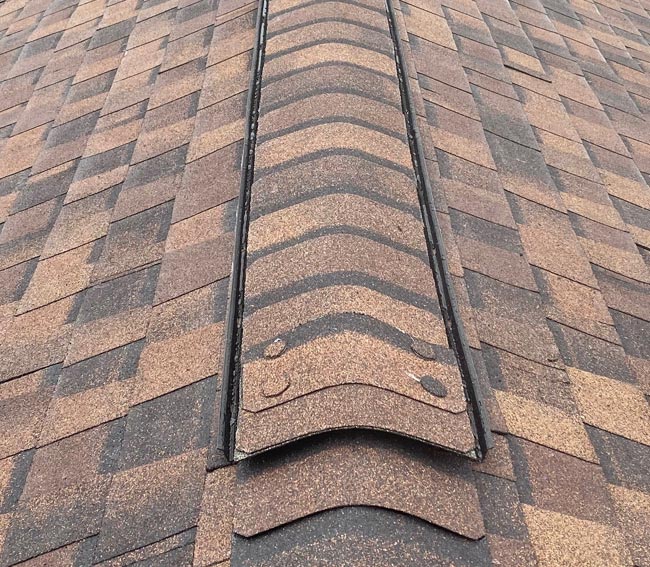 Traditional Asphalt Shingles
Most homes use traditional asphalt shingles. They are designed for slope roofs because of their overlapping nature. While they are not for use on flat roofs, they can be used on certain low-slope roofs. We work with high-quality CertainTeed® architectural roofing shingles that provide an attractive look and lasting protection.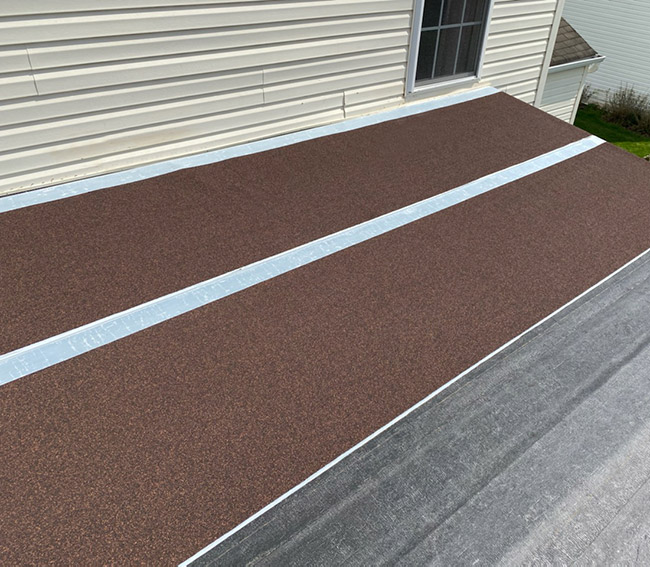 Roll-On Asphalt
Made with essentially the same material as traditional asphalt shingles, roll-on asphalt comes in large, heavy rolls that are used for low slope and flat roofs. It is applied in overlapping sections from roof end to roof end minimizing seams and areas where water can penetrate.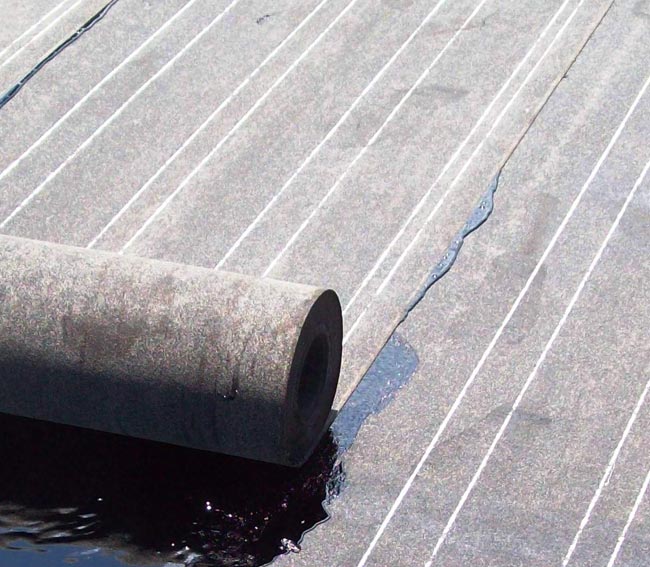 Modified Bitumen Flat Membrane
Commonly found on commercial buildings and other large flat roofs, Self-Adhered SBS-Modified Bitumen Roof Systems are very energy efficient. The mineral-based coating is reflective helping to keep your roof cool. The single-ply, asphalt-based underlying material is also incredibly water-resistant.
WHY CHOOSE US?
When it comes to hiring a roofing contractor, NexGen Exterior Home Remodeling stands out above the competition.
WE'VE GOT THE TOOLS
No matter what your project, we have the latest state-of-the-art tools to get the job done.
CERTIFIED EXPERTS
Our experts are trained to help bring your visions to life and meet all of your home needs.
COMPETITIVE PRICING
We provide the highest quality work at competitive prices to help you stick to your budget.
LABOR WARRANTY
We know you'll love the work our professionals do, and we offer the warranty to prove it.
YEARS OF EXPERIENCE
Our specialists have the right knowledge and skills to help you improve (and love) your home.
GREAT SUPPORT
Whether you invest in a remodel or an improvement, we'll be with you from start to finish.
Reasons for Flat Roof Replacement
A properly installed flat roof should last around 20 years. Every home is different in its sun exposure and other environmental factors that affect the lifespan of your roof. There are some common signs that you might need a flat roof replacement. An inspection by a licensed roofer is the best way to determine when it will be the right time to install a new flat roof.
Your Roof is Over 15 Years Old
Simply enough, your roofing materials are designed to last a certain amount of time. Usually, around year 15 you may start to notice your roof degrading, It's a good time to think about a flat roof replacement before and issues occur. When you have to unexpectedly replace your roof, it can be a hassle, along with the unforeseen expense.
Pooling Water or Leaks
Any flat roof runs the risk of standing water, especially a poorly installed one. If you can see your roof and notice pooling water a day or more after it rains, you may have some soft spots or issues with your roof slope or drainage system. The last thing you want is water to infiltrate your home so be on the lookout for leaks and problem areas.
Blistering or Cracking Membrane
If the protective materials of your roof are blistering, cracking or tearing you should have your roof replaced immediately. These areas open your home up to water, pests, and other potential issues. Problems tend to occur near seams or flashing and other joints. These areas can be lifted in extreme heat and winds.
Selling Your Home
A major sticking point for many homebuyers is the shape of the roof. What good is buying a new property if its primary form of protection from the elements is weak? You may want to have your flat roof replaced before you put your home on the market to improve property value and ensure a smoother negotiating process.
New Roofing for Every Size and Shape
No matter the style of home you have or the size and shape of your roof, NexGen Exterior Home Remodeling has you covered. We are experienced in installing replacement traditional and flat roofing on all types of homes and other buildings such as sheds and garages. We can provide lasting protection regardless of your roof slope, presence of chimneys, vents, dormers, and more. Our professional roofers will make sure your home is completely sealed so that you and your family are safe and sound.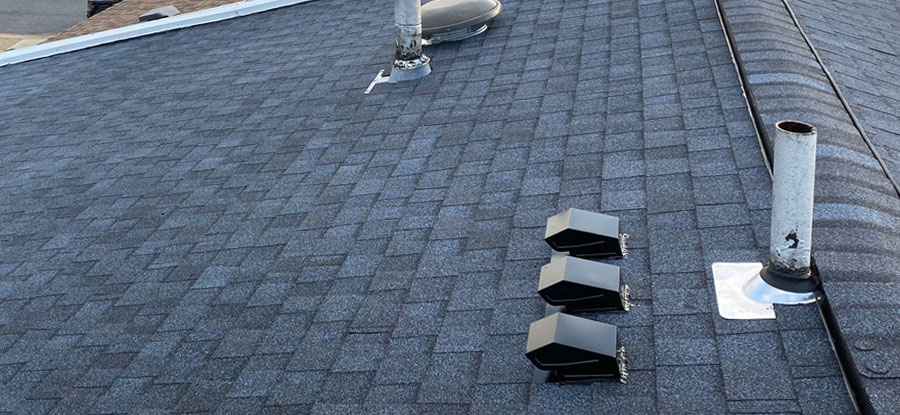 Contact NexGen Today For Your Flat Roof Replacement
Whether you are replacing your flat roof due to storm damage, old age, or you're simply interested in improving your property value, NexGen Exterior Home Remodeling is happy to help. Our expert craftsmanship and dedication to doing things right the first time is why so many homeowners call on us to replace their roofs. Experience the NexGen difference and schedule a roofing estimate today.
RECENT EXTERIOR REMODELING PROJECTS
For years, NexGen Exterior Home Remodeling has been helping homeowners update, redesign, or transform their homes into ones they can enjoy for years to come. Take a look at some of our most recent exterior renovation work by our experts.