Rubber Roof Installation | Philadelphia, PA
Flat roofs require different roofing systems than standard "pitched roofs." This particular "flat roof," wasn't actually flat. But because the "pitch" of the roof (i.e. the incline) was so minimal, we had to install a different kind of roof—a "rubber roof."
Asphalt shingles don't work on roofs without pitches, or on roofs with very minimal pitches, because shingles require a steep enough pitch for the rainwater to flow down them. When water can stagnate, or wind can blow the water underneath the shingles, you're going to have a leaky roof. Rubber roofs solve this problem.
EPDM Roofing System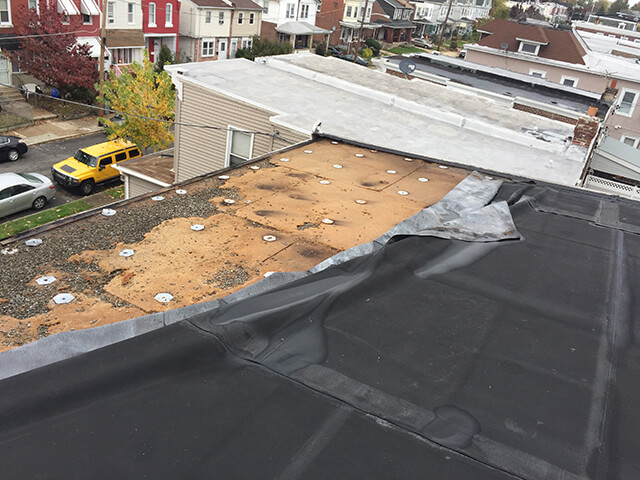 When we ripped off the old rubber roof, we noticed large water stains and an aged, beat-up insulation barrier. So we stripped off all of the old insulation and replaced any rotted plywood sheeting underneath. Once we removed all the old materials, we began the process of installing the roof.
An Ethylene Propylene Diene Monomer (EPDM) membrane doesn't provide any insulation, like shingles do. Therefore, when installing a rubber roof, we need to further insulate the roof. We do this with insulation board. As partners with CertainTeed®, we use FlintBoard® ISO Polyisocyanurate Roof Insulation.
Foam insulation, like all insulation, increases your home's energy efficiency and saves you money. (It also makes for a much more durable roof too!)
As a last step, we installed the EPDM rubber roofing by gluing it to the insulation board. Whenever we install an EPDM rubber roof, we always try to limit seams. Seams are adhered together with glue and, overtime, glue loses it's stickiness. More seams means a rubber roof is more likely to leak.
As this was a replacement for only the small overhang, we needed to lift up the old shingles to make sure the rubber roof is covered by shingles where it connects with the shingled roof.
How to Contact Us
If you have a flat, or low-sloped roof that needs replacing, let us take a look at it and give you a free estimate! You can get in contact with us through our Contact Page, or call us directly at 1-215-277-7630.
RECENT EXTERIOR REMODELING PROJECTS
For years, NexGen Exterior Home Remodeling has been helping homeowners update, redesign, or transform their homes into ones they can enjoy for years to come. Take a look at some of our most recent exterior renovation work by our experts.