Your Local Trex® Decking Installer
Build the Outdoor Space You Have Always Wanted
Whether you have an existing deck or porch that you want to resurface or you're looking to make an addition to your property, Trex® composite decking is a great choice. As a TrexPro® Platinum decking installer, NexGen Exterior Home Remodeling has the knowledge and expertise to build a great-looking deck or porch that will last a lifetime. We're licensed and insured in Pennsylvania and New Jersey.
If you want to expand your home's living space to include an enjoyable outdoor area, you can't go wrong with a Trex® deck. We have years of experience designing and building custom decks that are as eye-catching as they are functional. The professional deck builders at NexGen are here to help transform your backyard into what you have always dreamed of. Our Trex® decking installers are just a click or call away to answer any questions you may have about materials, design, and our deck building process.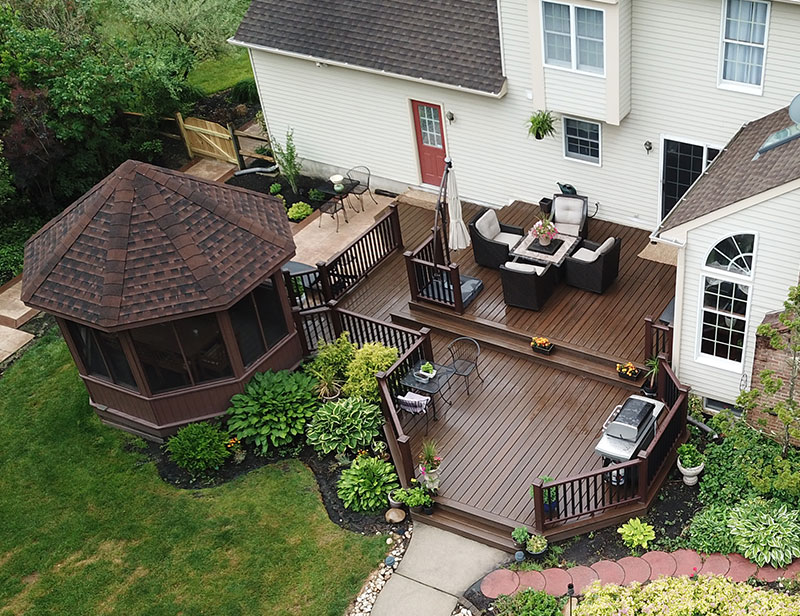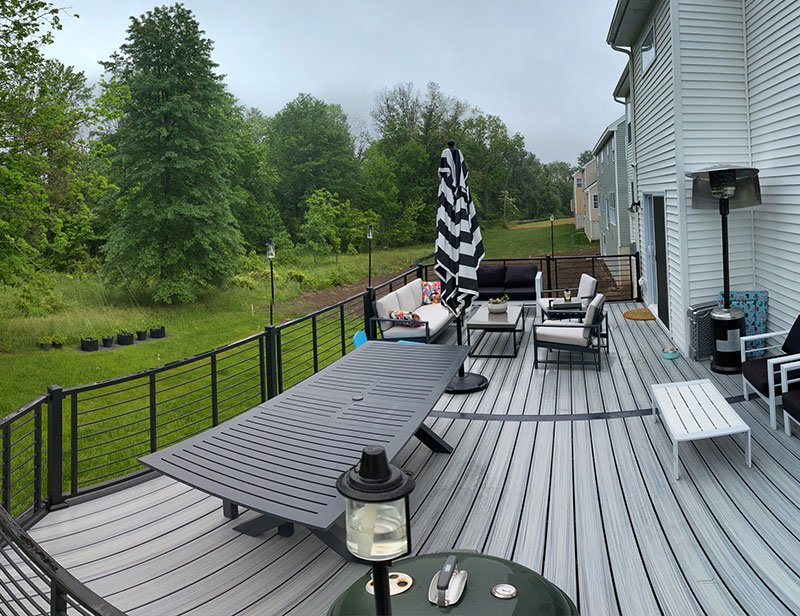 For a lasting look and feel, few deck products can compare to Trex®. Because it's made of composite material, it doesn't require regular cleaning and staining like a traditional wood deck does. Trex® is made of 95% recyclable materials, making it an environmentally friendly solution. You'll never have to worry about splinters, warping, or fading either. More and more homeowners are choosing to install a Trex® deck because they can spend more time enjoying it than caring for it. As a TrexPro® Platinum builder, we can offer a 10-year labor warranty that other contractors can't.

Trex® Makes More Than Just Decking
Not only are we able to install long-lasting Trex® deck boards, but also railings, stairs, lighting, and more.
WE'VE GOT THE TOOLS
No matter what your project, we have the latest state-of-the-art tools to get the job done.
CERTIFIED EXPERTS
Our experts are trained to help bring your visions to life and meet all of your home needs.
COMPETITIVE PRICING
We provide the highest quality work at competitive prices to help you stick to your budget.
LABOR WARRANTY
We know you'll love the work our professionals do, and we offer the warranty to prove it.
YEARS OF EXPERIENCE
Our specialists have the right knowledge and skills to help you improve (and love) your home.
GREAT SUPPORT
Whether you invest in a remodel or an improvement, we'll be with you from start to finish.
Still Not Sold on Trex®?
If you're still unsure about building a Trex® deck, that's no problem. At NexGen Exterior Home Remodeling we install natural wood decks and porches as well. While they do require a fair amount of maintenance to retain their beauty, you can rest assured that our team of expert deck installers will construct a strong and sturdy deck that is built to last. With the cost of lumber these days a Trex® deck is actually often a more affordable option.
Benefits of Trex® Decking
Cost-Effective
No Staining
No Warping
No Fading
No Splintering
Hire NexGen Today as Your Trex® Decking Installer
Get started building the perfect custom deck or porch for your home today. NexGen has been providing quality construction services for homeowners in the Greater Philadelphia Area for nearly a decade. Contact us today to speak with our Trex® decking installers that will work with you to create the best outdoor living space possible.
RECENT CUSTOM TREX® DECK PROJECTS
NexGen Exterior Home Remodeling has been helping homeowners transform their properties into ones they can enjoy for years to come. Take a look at some of our most recent Trex® Decking transformations installed by our experts.
FREQUENTLY ASKED QUESTIONS
At NexGen Exterior Home Remodeling, we have heard many different questions from home owners. We thought it would be helpful to our customers if we listed some of these common questions and provided answers.
Q: Do you work with other composite decking products?
A: Currently we only install Trex® composite decking products.
Q: What is Trex® made out of?
A: Trex® is made out of 95% recyclable materials, including recycled plastic and wood pulp.
Q: How often should I re-stain my wood deck?
A: Every few years. Wood decks exposed to a lot of direct sunlight will take a beating from UV rays and need all the help they can get against water damage.
Q: Can you replace my old deck?
A: Yes, we can provide a quote that will include removal and disposal.
Q: Can you build a lanai for my new deck?
A: You bet! Our deck builder be happy to customize your deck for you.
Q: Are you licensed and insured?
A: Yes. Our southeastern PA & NJ deck and porch builders are licensed and insured in the states of Pennsylvania and New Jersey.
Professionals Available 24/7