Front Door Replacement Services
Upgrade To a Beautiful, Energy Efficient Front Door
NexGen Exterior Home Remodeling is proud to be the most trusted front door replacement company in New Jersey and Pennsylvania. Our approach is centered on earning loyal clients who choose us for their home improvement needs time and again. We build relationships and are dedicated to providing our customers real value rather than just getting paid and moving on.
Is it time to replace your front door? A front door is an integral aspect of a home from both an aesthetic and functional perspective. No matter the shape of your door or the style you have in mind, we can replace it to improve curb appeal and deliver energy savings. Do your ideas for your door differ from the current home design trends? Our home improvement team can provide custom front door replacement solutions, and you will be amazed at how we can carry out your vision. Reach out to us today to learn more and get a free quote!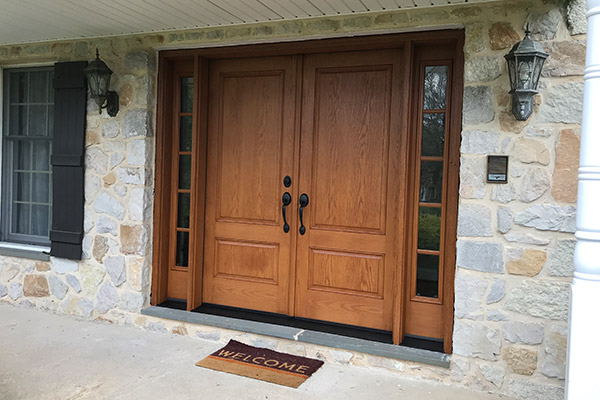 Local Home Remodeling Company In Pennsylvania & New Jersey
Our home improvement company is fully licensed and insured in both New Jersey and Pennsylvania. We are also a BBB-accredited business with an A+ rating and listed on HomeAdvisor and Angi's! You will find exceptional ratings on both those sites, and the reason for that is our approach to customer service. From the initial estimate to the final walkthrough, your customer experience will be second to none, and you can expect us to continue being there to deliver customer care to that same high standard.
NexGen Exterior Home Remodeling takes a similar approach to craftsmanship. Our team installs only the highest-quality front doors. They are not only beautiful but energy efficient—as in ENERGY STAR certified. All of the doors we install come with excellent warranties. We always adhere to the manufacturer's standards for every front door replacement to ensure that the warranty requirements are met. We can even make sure your door matches HOA guidelines. Every exterior home remodeling project that we perform also comes with a one-year warranty on all labor.
What Type of Material Is Right For Your Door?
You have many options when it comes to choosing a material for your new front door. This is true whatever your preferences or budget, and some of the top choices today include:
What Type of Material Is Right For Your Door?
You have many options when it comes to choosing a material for your new front door. This is true whatever your preferences or budget, and some of the top choices today include: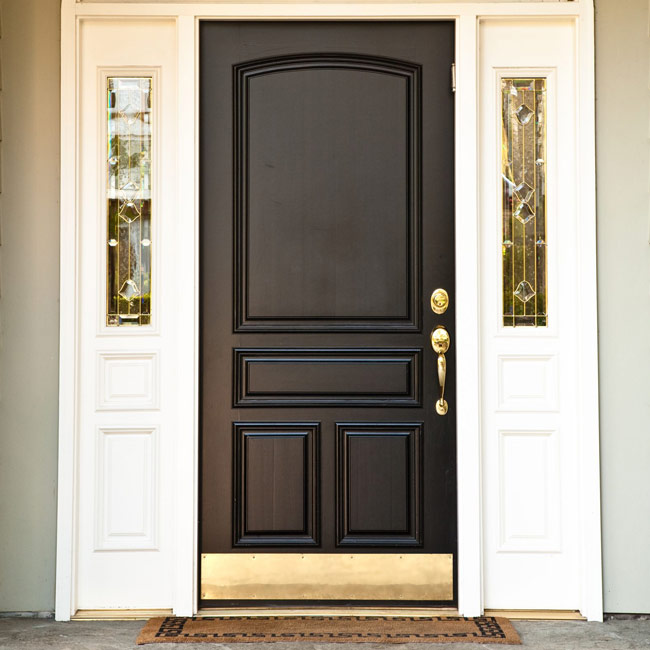 Steel Front Doors
Steel front doors are a popular option because they protect against home intrusion better than other materials. They are also energy efficient due to the insulating foam interior and can be designed in very distinctive styles, but a potential drawback is that a door may need to be replaced if ever dented.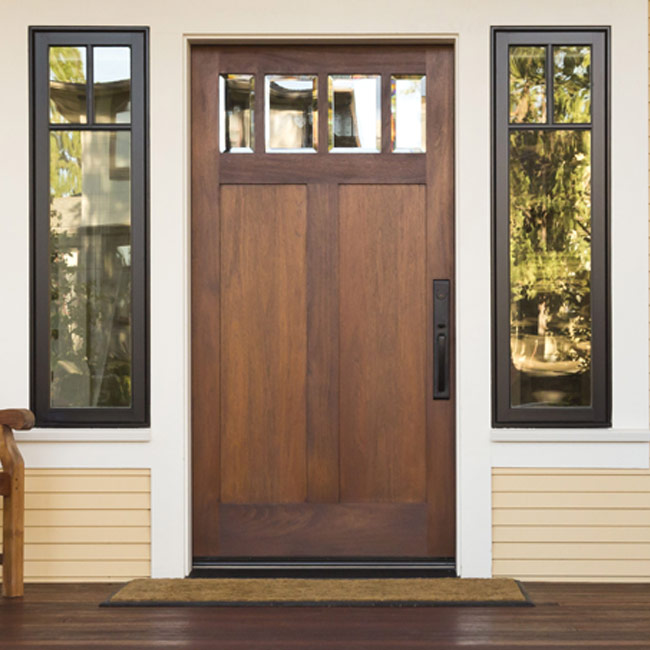 Wood Front Doors
Wood is the traditional choice for front door replacement. This material provides numerous size, shape and style options, and wood opens up many decorative possibilities as well. A potential negative is that wood front doors warp over time and thus have to be replaced more often than other door styles.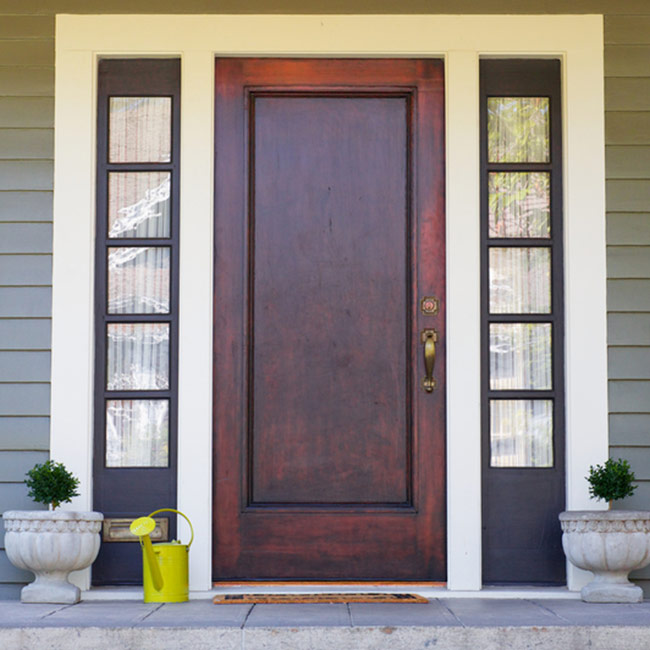 Fiberglass is an excellent option when you want the wood aesthetic but greater durability. They are resistant to dents and nicks, and the color selection for staining them is practically endless. Fiberglass does tend to cost more than wood up front, but the long-term energy savings make up for it.
Glass Front Doors
Solid glass is a beautiful choice for a front door and one that allows for an abundance of natural light. There are potential downsides, such as cold air or the view provided from the exterior, but you always have the option to pair a glass door with a door made of another material.
WHY CHOOSE US?
When it comes to hiring a front door replacement contractor, NexGen Exterior Home Remodeling stands out above the competition.
WE'VE GOT THE TOOLS
No matter what your project, we have the latest state-of-the-art tools to get the job done.
CERTIFIED EXPERTS
Our experts are trained to help bring your visions to life and meet all of your home needs.
COMPETITIVE PRICING
We provide the highest quality work at competitive prices to help you stick to your budget.
LABOR WARRANTY
We know you'll love the work our professionals do, and we offer the warranty to prove it.
YEARS OF EXPERIENCE
Our specialists have the right knowledge and skills to help you improve (and love) your home.
GREAT SUPPORT
Whether you invest in a remodel or an improvement, we'll be with you from start to finish.
Reasons You May Need a New Front Door
Let us consider the five key reasons why it may be time to replace your front door:
Not all homeowners use their front doors, but if you do, then ingress and egress are important considerations. Your front door should make access easy even when pushing a baby stroller or using a wheelchair. Popular upgrades include lever-style door handles and wider entrances with zero-clearance thresholds. You can also trade in steps for a ramp or add a portico for greater convenience.
Curb appeal is perhaps the most common reason to opt for front door replacement. You may want to swap out a door style that is no longer trendy or update to a more contemporary color. A new door can also provide other opportunities to improve your home, such as sidelights or a porch covering.
Older wood doors are a common cause of drafts and other forms of air leakage. That not only leads to cold and warm spots in your home but also increases your energy bill. Weather damage is another sign an old door needs to be replaced. If you can detect moisture or see any signs of mold damage, replacing your framing and installing a new door can be an important step toward protecting your home.
A survey of convicted burglars revealed that cheap wood doors are an attractive target. Not only are they easy to kick in, but loud bangs draw less attention than breaking glass. When considering front door replacement, think about home protection as well. Fiberglass and steel are far less attractive options to would-be thieves. They are also more tamperproof and provide you more and better options for locking systems.
The smart home is the home of the future, and your front door can be part of that network as well. Fumbling for your keys or having to hide a spare could be annoyances that are no longer relevant. It can even be possible to unlock or lock your front door from your smartphone while away from home.
How Much Does It Cost to Replace a Front Door?
Homeowners often ask us how much it will cost to replace a front door. The answer is that it depends on a number of factors. NexGen Exterior Home Remodeling can provide an on-site consultation without cost or obligation. During that appointment, we will discuss your options and preferences and provide you a custom quote based on your choices. Contact us today to get started and we're more than happy to answer any questions you might have.
The aspects that often play a role include:
Labor

Material

Hardware

Adornments

Warranty
We Can Install a Custom Front Door
No matter the size of your front door or the current style or design, NexGen can replace it with a beautiful and energy-efficient option. Custom home remodeling solutions are among our specialties. During your on-site consultation for your front door replacement, we will measure the door frame, discuss your unique vision for your front door and explore the many options that you have available.
Request a Free Quote For Your Front Door Replacement Services
Replacing your front door should be a fun and exciting experience, and the home improvement experts at NexGen are here to help you every step of the way. Let us install the perfect front door for your Pennsylvania or New Jersey home! Call +1(215) 277-7630 today or contact us online to schedule a free estimate.
RECENT EXTERIOR REMODELING PROJECTS
For years, NexGen Exterior Home Remodeling has been helping homeowners update, redesign, or transform their homes into ones they can enjoy for years to come. Take a look at some of our most recent exterior renovation work by our experts.