Residential Roof, Gutter Installation, and Aluminum Siding | Abington, PA
Not every client needs a total home makeover. Sometimes replacing a few important parts of the home will overhaul the home's entire aesthetic. Not only will you improve the home's overall look, but you'll also improve the look of existing features.
Here's a good example of using a quality home remodel to accentuate a home's existing features. While the home's stone veneer was still in good shape, the roof, vinyl siding, and fascia all needed replacing. By matching the colors of the new materials with the old materials, we were able to bring back the charm of the old stone veneer.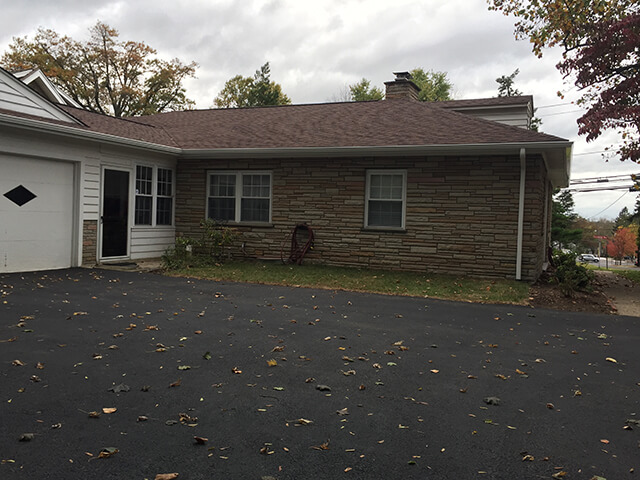 The most important part of this job was the new roof. As CertainTeed® SELECT ShingleMasters™, we used (and always recommend) CertainTeed's Landmark™ shingles. These high quality shingles have a 30 year lifespan and come with a special algae-resistant coating to protect the vibrant colors against ugly algae stains.
With this particular job the homeowner opted for Burnt Sienna colored shingles for a quality brown color, which goes well with the home's stone veneer.
These shingles are just one part of a CertainTeed Integrity Roof System™:
With these high quality products, we installed an exceptional roofing system with a 30-year lifespan rating, a 4-star SureStart PLUS™ Warranty, and a NexGen Labor Warranty–for a year.
Benefits of Copper Flashing
We installed Copper and Aluminum flashing around the home's chimney. This is normally a problem area because the water will dam up behind the chimney instead of running down the roof. But with proper flashing from a quality roofing contractor, your chimney should never leak.
Copper is an exceptional flashing material because it doesn't rust or corrode. While aluminum won't rust or corrode either, copper is much more durable with better UV protection.
Vinyl Siding, Fascia, and Seamless Gutters
The vinyl siding on the home is meant to only accent the home's natural stone veneer. A nice, clean white of CertainTeed's Monogram™ vinyl siding was perfect for the job. We also replaced the home's old fascia with heavy gauge aluminum, while also replacing some rotted wood.
After we replaced the home's fascia, we installed a new water management system—5" K-style seamless gutters with hidden fasteners. We also installed new downspouts making sure that the water flows outward away from the home. Thereby ensuring that the home's foundation is safe from water damage.
Request a Free Quote
If you're interested in a similar remodeling job, send us and email through our contact page for a Free Estimate!
RECENT EXTERIOR REMODELING PROJECTS
For years, NexGen Exterior Home Remodeling has been helping homeowners update, redesign, or transform their homes into ones they can enjoy for years to come. Take a look at some of our most recent exterior renovation work by our experts.