Old Asbestos Siding replaced with CertainTeed® Vinyl Siding | Magnolia, NJ
We recently removed some old asbestos siding and installed Sterling Gray-colored CertainTeed® Monogram™ vinyl siding for a homeowner in Magnolia, New Jersey. Removing asbestos siding is potentially dangerous. You really need to know what you're doing because creating clouds of asbestos dust will pose a significant health risk.
We have a lot of experience removing asbestos siding and we've even previously blogged about it: Vinyl Siding in Chalfont, PA.
Once the asbestos siding was removed the job was easy. We replaced rotted plywood, sprayed foam insulation around windows and doors, wrapped the whole home in Typar® HomeWrap™, and finally finished by installing the Monogram vinyl siding.
Soffit and Fascia
When installing vinyl siding, it's the perfect opportunity to replace soffit and fascia. The fresh white trim really shows off the colors of the vinyl siding. The soffit, in particular, usually needs replacing at a higher frequency than vinyl siding too.
We also capped all the windows to protect against water leakage.
Gutter Overhaul
We replaced the old gutter system with a new seamless 5-inch K-style gutter system. The beauty of seamless gutters is when you combine them with hidden fasteners—rather than having ugly fasteners all along the gutters, hidden fasteners enable a clean, sleek look along the roofs edge.
We also installed new downspouts—the most important part of a gutter system. The purpose of a water management system is to keep water away from the foundation. Therefore, downspouts should be angled outward and the water should flow a suitable distance away from the home.
You want to protect the foundation of the home, but if the water just flows back into the foundation—you're defeating the purpose.
Large Service Area
NexGen Exterior Home Remodeling serves a large area. We're not only licensed in Pennsylvania, but in New Jersey too.
Pennsylvania Home Improvement Contractor License Number: PA111222
Philadelphia Commercial Activity License Number: 676865
New Jersey Home Improvement Contractor License Number: 13VH08768900
Please check out our Service Area Map to see if we offer remodeling services in your location.
How to Request a Quote
If you're interested in a similar job, Request a Free Quote on our Contact Page!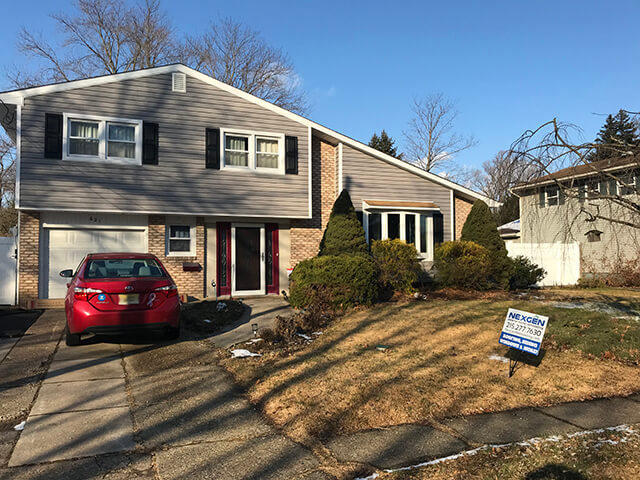 RECENT EXTERIOR REMODELING PROJECTS
For years, NexGen Exterior Home Remodeling has been helping homeowners update, redesign, or transform their homes into ones they can enjoy for years to come. Take a look at some of our most recent exterior renovation work by our experts.