Home Remodeling Project: Siding and Fascia Replacement | Abington, PA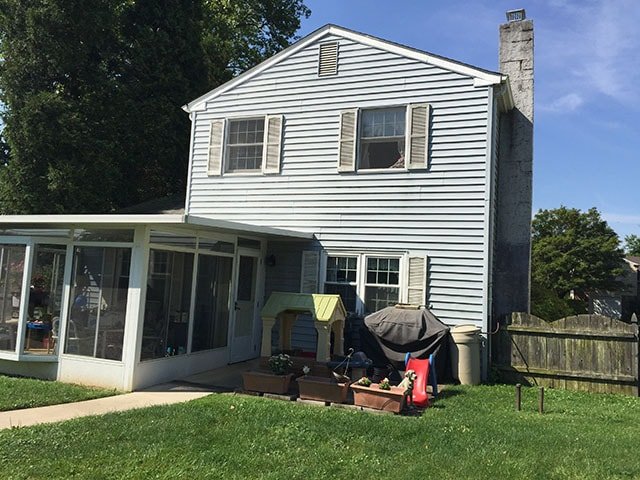 Another quality energy efficient makeover for a homeowner in Abington, PA. The homeowner liked the color of the old aluminum siding, but wanted to replace the old, banged-up aluminum siding with brand new CertainTeed® Monogram™ vinyl siding.
Besides the dings and dents that come with old aluminum siding, the seams were also really starting show. Not only are gaps at the seams unattractive, but they're also wasting energy. You really want a tight seal to further insulate the home, which is not only important in the winter—but the summer as well!
A major benefit of installing new vinyl siding—besides the improved look—is the increased energy efficiency. To really take advantage of that, we provided a solid foundation by spraying foam insulation around all the windows and doors, replacing old rotten plywood sheeting, and wrapping the home in a breathable, waterproof membrane—Typar® Homewrap™.
After we prepared the home, we installed CertainTeed® Monogram™ Oxford Blue-colored vinyl siding, while replacing the home's old fascia with a nice clean, white vinyl—the perfect accent for light blue vinyl siding.
If you'd like a similar energy efficient home remodeling makeover, make sure you check out our home siding installation page (and our energy efficient window page, too!)
RECENT EXTERIOR REMODELING PROJECTS
For years, NexGen Exterior Home Remodeling has been helping homeowners update, redesign, or transform their homes into ones they can enjoy for years to come. Take a look at some of our most recent exterior renovation work by our experts.