Home Remodeling: Giving a Home a Facelift | Ambler, PA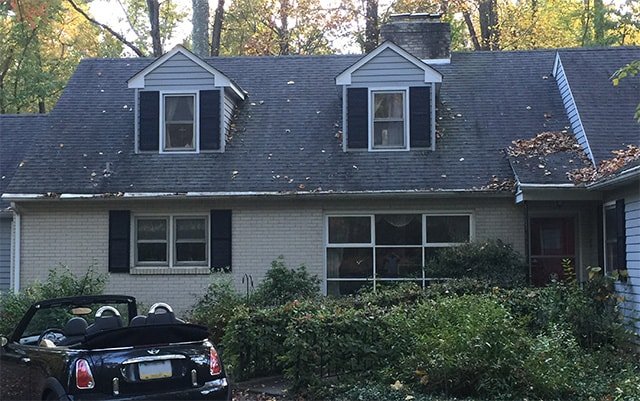 We're proud of this recent project by NexGen Exterior Home Remodeling in Ambler, PA. At first glance, you might think the home was rundown and in bad shape. But the problems with the home weren't structural—the home was still in good condition. The problems were largely cosmetic and easily fixable. All it needed was a little TLC.
Assessing the job, we were quick to notice that the roof, although dirty and mildewed, was still in good condition—a huge relief to the homeowner. A quick, soft pressure wash solved this problem. But the other problems weren't solved as easily.
The home's aluminum siding, for example, was very old, mangled, and falling off part of the garage. The home's soffit and fascia were worn-out and needed replacing, as well as the old, porous gutters, and the outdated, inefficient exterior doors. Basically, the home needed a complete makeover. But that's the fun part!
Preparing the home for new vinyl siding, we tore down the old, mangled aluminum siding, replaced the rotted plywood sheeting, and wrapped the home in waterproof, Typar Home Wrap®.
After the prep work, we installed brand new CertainTeed® Monogram® light maple vinyl siding, and accentuated it with cream colored cedar impression vinyl siding around the gable ends.
We also installed new vinyl soffit, as well as new light maple heavy gauge aluminum fascia around all the doors and windows. Around the front of the home, we also removed the old brick siding and replaced it with Ledgestone Bucks County Gray stone veneer.
The old gutters were in horrendous condition. Matching the vinyl siding and home's fascia and soffit, we replaced them with light maple, K-style seamless gutters.
The end result is a home to be proud of!
If you have a home that's in similar circumstances—or even just a single job, like a new roof—check out our service pages, testimonials, and gallery. We'd love to work with you to give your home the facelift it deserves!
RECENT EXTERIOR REMODELING PROJECTS
For years, NexGen Exterior Home Remodeling has been helping homeowners update, redesign, or transform their homes into ones they can enjoy for years to come. Take a look at some of our most recent exterior renovation work by our experts.