Home Makeover: Roof, Windows, and Gutters | Ambler, PA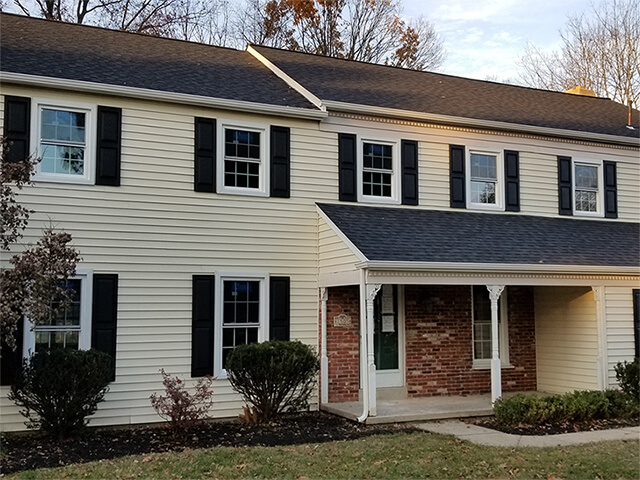 Large-scale home remodels are some of our favorite jobs. Not only are we able to replace multiple parts of a home, but we're also able to match the different colors and styles together for greater uniformity. With a large-scale home remodeling job, you're really able to see a dramatic change in the home's overall look.
This particular job was unique because we didn't need to replace the most noticeable part of the home—the vinyl siding. But even without replacing it, you can clearly see the difference in how good the rest of the home—and the vinyl siding—looks. It's night and day when you clean it up and replace the other materials around it.
CertainTeed® Roofing System
While the vinyl siding and the foundation of the home was still in good condition, there were some major problems with the home's exterior. We started with the most immediate need on the home to prevent for further leaks—the roof.
The underneath roof was in especially bad shape. A quick tarp repair was the only thing keeping the rain from pouring in. We completely tore off the old roof, replaced rotted plywood, and installed a CertainTeed Integrity Roofing System.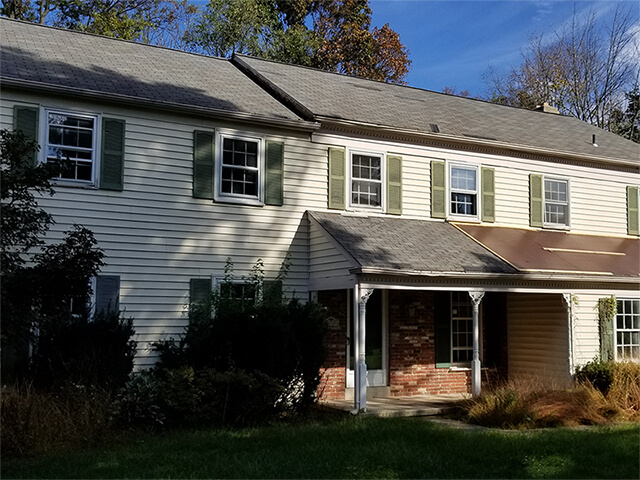 As CertainTeed SELECT ShingleMasters™, we offer a 4-star SureStart PLUS™ Warranty, and we include it with every quote.
We take our warranties even further than CertainTeed as well: Whereas a 5-star SureStart PLUS warranty only covers workmanship for 25 years, our NexGen Labor Warranty covers workmanship—for a year.
Energy Efficient Windows
The next step was replacing the windows: The home's old windows with even older shutters were in desperate need of an upgrade. When it comes to home remodeling, we always try to maximize energy efficiency. So when we install new windows, we always wrap the window openings in Typar® HomeWrap™ and use spray foam insulation to fill gaps around the window's frame.
As for the windows themselves, we went with the outstanding windows from Harvey Windows. Their line of Harvey Classic Windows with fusion-welded corners and non-toxic argon gas filled between the panes are exceptional for energy efficiency.
Seamless Gutters
Lastly, we installed 5-inch K-style seamless gutters with hidden fasteners, which provide a subtle white trim along the roof's edge. While it doesn't have quite a dramatic effect as other jobs, gutters give the home a finished look, while also providing the home with a much-needed water management system.
If you're interested in a similar home remodeling project, just send us a request on our contact page for a free estimate!
RECENT EXTERIOR REMODELING PROJECTS
For years, NexGen Exterior Home Remodeling has been helping homeowners update, redesign, or transform their homes into ones they can enjoy for years to come. Take a look at some of our most recent exterior renovation work by our experts.