Energy Efficient Home Remodel | Abington, PA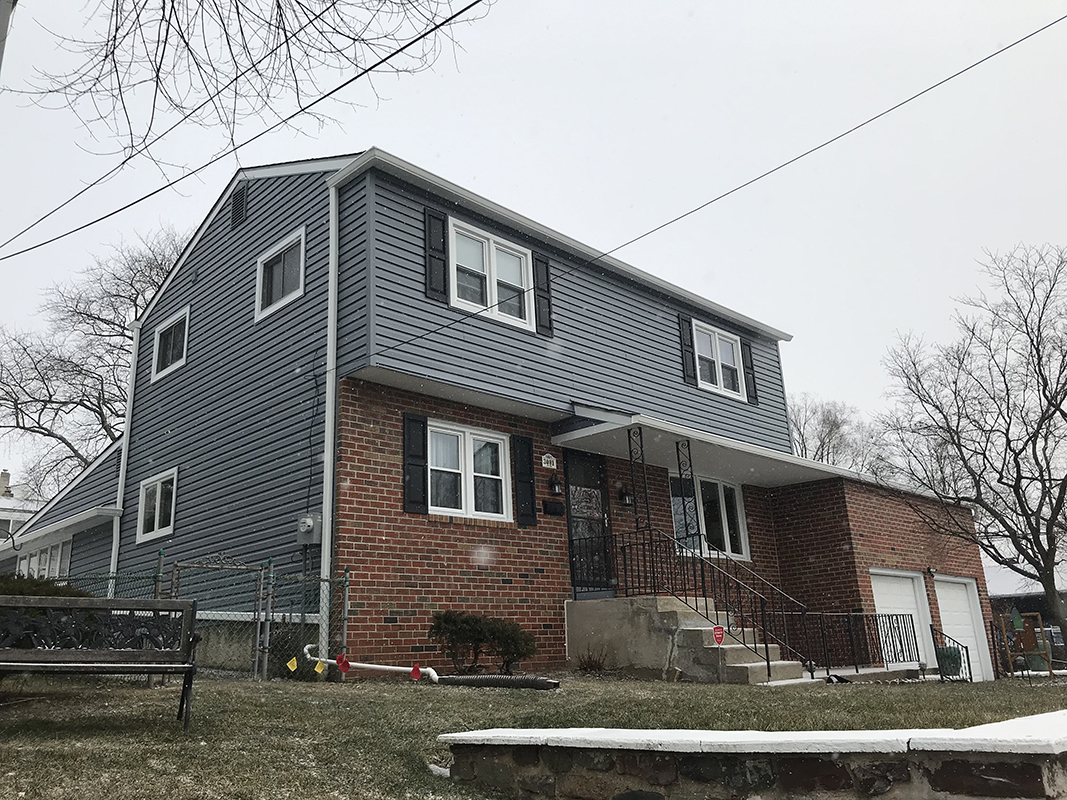 With spring a few months away, homeowners can finally start those home remodeling projects they've been planning throughout the winter. Now is the perfect time for one of our most requested projects—an energy efficient home remodel.
The best part of energy efficient home remodeling is that you don't have to sacrifice build quality, or even spend a fortune on the products. Energy efficiency is the norm in the remodeling industry with the most commonly used premium materials specifically designed for it.
We installed brand new vinyl siding and energy efficient windows, which will greatly increase the home's energy efficiency. While we also completely redesigned and installed a new seamless gutter water management system.
Monogram Vinyl Siding Installation
One of the most important factors in an energy efficient remodel is the siding. While the homeowner had extremely efficient asbestos siding already, they obviously wanted the ugly, health hazard removed.
While it requires technical expertise, this is a pretty common job for us. We often get asked to replace asbestos siding. While a great insulator, many homeowners are anxious to get rid of it as it's a potential health risk and old asbestos siding is really ugly.
We replaced the old asbestos siding with new CertainTeed Monogram vinyl siding. Monogram vinyl siding is a great replacement. Tough, durable, and looks fantastic. While not as good an insulator as asbestos, the looks are far and away better and there's no health risk!
Energy Efficient Windows
We installed nine new energy efficient windows in the home: six standard double-hung windows, two sliding windows in the back bedrooms, and a specialty four-paneled casement window in the living room.
All of these windows come with Low-E rated glass for blocking ultraviolet rays, non-toxic Argon gas filler for improved UV protection, fusion-welded corners for better seals and increased lifespans, and also child safety locks.
We also installed some shutters around a few of the windows and also wrapped all windows and doors in custom-bent heavy-gauge aluminum fascia. Even old windows can look beautiful with proper outlining with quality fascia.
Seamless Gutters
While gutters aren't part of energy efficiency remodeling, you can't overlook them. Gutters are an integral part of a home's water management system which protects the home's foundation from soil erosion.
Not only are gutters vital for protecting your home's foundation, but seamless gutters also look fantastic. Seamless gutters provide a clean, sleek roofline without clamps and other hardware of traditional gutters getting in the way.
As part of this job, we also completely reworked the home's water management system when we replaced the gutters. This was no small job, as the roof line of this home is very complex with all the extra additions they've done over the years. Rest assured, we were capable of streamlining the process and protecting the home's foundation from soil erosion.
How to Contact Us for a Free Quote
If you're interested in an energy efficient home remodel or any exterior home remodeling project, just send an email using our contact form for a FREE QUOTE.
RECENT EXTERIOR REMODELING PROJECTS
For years, NexGen Exterior Home Remodeling has been helping homeowners update, redesign, or transform their homes into ones they can enjoy for years to come. Take a look at some of our most recent exterior renovation work by our experts.