Accenting a Home: Exterior Doors, Gutters, and Vinyl Siding | Jenkintown, PA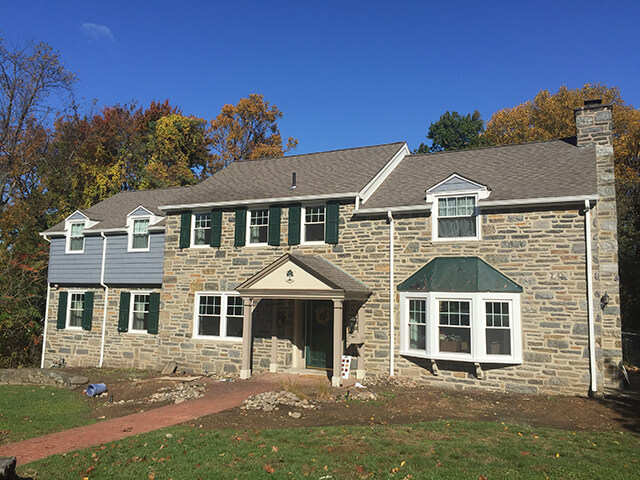 Accenting a home can have dramatic effects. The major obstacle when performing small remodels like this is blending the different styles and color schemes. But a talented remodeling contractor understands style and color theory.
With this particular job, the homeowner wanted to replace the old vinyl siding on the second story and dormers. They also wanted to replace the old gutter system with a new seamless gutter system, and replace two exterior doors–including the front entry door.
Approaching the vinyl siding took some creativity. The old vinyl siding blended-in well with the home's present stone exterior. However, the homeowner wanted to try something different, so we used a light blue color which contrasts nicely with the present stone exterior while still meshing well with the current color scheme.
Finishing off the home we installed all new white soffit, gutters, and fascia, which provided a nice bright trim around the home.
CertainTeed®'s Cedar Impressions™
The first project was installing the new vinyl siding on the second story and on the dormers.
Designed to emulate cedar shake siding, CertainTeed Cedar Impression vinyl siding is an excellent option for homeowners who like the look of cedar shake, but don't want to spend a lot of money and deal with all the extra maintenance.
Cedar Impressions vinyl siding is a similar heavy-duty polymer to other styles of vinyl siding, but also comes with Molded Perimeter Lock™ technology which creates the impression of seamless interlocking panels.
Like all of CertainTeed's vinyl siding it's also virtually maintenance free.
Therma-Tru® Classic-Craft American Style™
Our next project was installing new front and side entry doors. We decided on Therma-Tru Classic-Craft American style fiberglass doors. Fiberglass is our recommended type of door because of its affordable cost, high durability, excellent insulation, and overall quality.
Therma-Tru doors have a well-deserved reputation for the quality of their products. Their Classic-Craft American style doors come with numerous benefits:
AccuGrain™ technology. A specialization of Therma-Tru doors which provides a more accurate emulation of wood grain—specifically Douglas Fir, a prized building material of traditional wood built doors.
Flushed Glazed glass. A unique manufacturing method which allows for larger glass area than traditional doors. The glass is also Low-E graded glass, which offers superior protection from UV-rays and better insulation than non-treated glass.
Seamless Gutters with Hidden Fasteners
We replaced the old gutter system with a streamlined, 5-inch K-style Seamless Gutter system. The beauty of seamless gutters is when you use hidden fasteners. This gives a really clean, sleak roof line.
We also added 2″x4″ Downspouts along the home, which angle outward away from the home. It's vitally important that downspouts clear further enough away from the home to protect against foundation damage.
Request a Free Quote!
If you're interested in a similar remodel, or in any of our remodeling services, you can request a free quote from our contact page. Either by clicking this link, or the button below.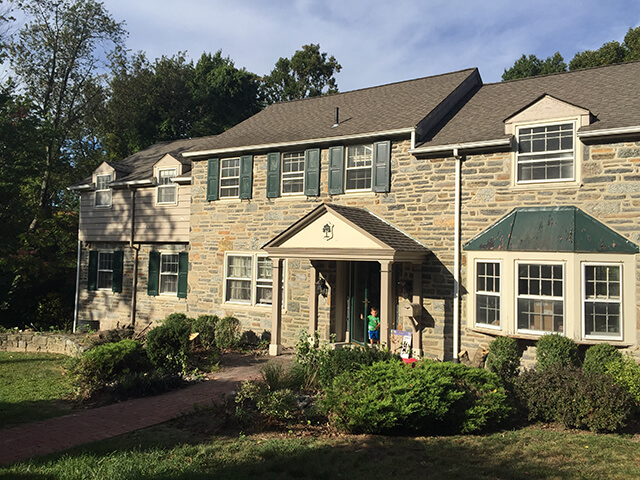 RECENT EXTERIOR REMODELING PROJECTS
For years, NexGen Exterior Home Remodeling has been helping homeowners update, redesign, or transform their homes into ones they can enjoy for years to come. Take a look at some of our most recent exterior renovation work by our experts.