Roof Replacement in Pottstown, PA
Details About the Project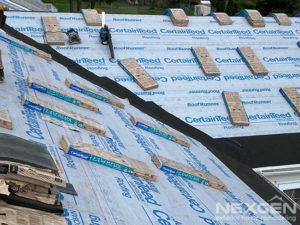 NexGen Exterior Home Remodeling is proud to exclusively install the CertainTeed Integrity Roof System. In order for a roof to withstand the elements and protect your home, there are many components working together underneath the shingles. One of those products in the underlayment.
On this recent roof replacement in Pottstown, PA our install team has laid down the CertainTeed RoofRunner underlayment to prepare the roof for the shingle installation. This high performance, water-resistant product repels moisture and backs up your asphalt shingles as a second barrier against leaks. Not only does RoofRunner work in tandem to seal your home from water penetration, it also does double duty as a high traction walking surface that increases the safety for the roofing contractors as they complete the installation process.
RECENT EXTERIOR REMODELING PROJECTS
For years, NexGen Exterior Home Remodeling has been helping homeowners update, redesign, or transform their homes into ones they can enjoy for years to come. Take a look at some of our most recent exterior renovation work by our experts.