Residential Roof & Cedar Shingle Siding | Huntingdon Valley, PA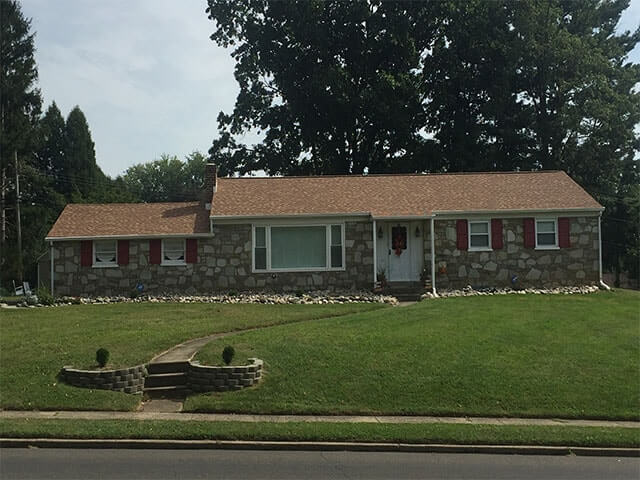 Here are the results from a recent roof replacement on a ranch-style home in Huntingdon Valley. The job was a little unique because the previous roof installation was a "cover-over."
Cover-overs are perfectly acceptable roofing options for savings savvy homeowners that would like a new roof, but the old roof isn't in dire need of replacement. Rather than remove the old shingles, you simply install new shingles over the old ones. By doing this, you can save a ton of money on a roof installation.
The only downside is that when the roof needs replacing—the demolition and cleanup costs are significantly increased. With a cover-over, we needed to remove two layers of shingles. That increases labor costs (for both tear-off and cleanup), but it also increases the need for a larger dumpster as well.
After removing the old roof, we prepped the new roof by replacing rotted plywood and installing WeatherWatch® ice and water shield down the valleys and along the eaves. We also installed all new metal: Drip edge around the eaves of the roof and base, counter, and step flashing around the chimney. Installing metal around the perimeter of the roof and up against the chimney helps protect against water damage in known problem areas.
Next came installing the shingles. As CertainTeed® SELECT ShingleMasters™, not only were we able to give the homeowner a warranty on the shingles, but we also provided the homeowner with a NexGen one year labor warranty. Matching colors with the home's stone veneer, we decided on CertainTeed® Landmark™ Mohave Tan-colored architectural style shingles, which also blends in nicely with the Cedar Impression™ vinyl siding we installed out back.
Cedar Impressions™ Double 7″ Straight Edge Perfection Shingles offer a cost-effective, maintenance-free alternative to traditional cedar shake siding. These are the perfect solution for homeowners that want the quality aesthetic of cedar shake siding without the expensive costs and high maintenance.
RECENT EXTERIOR REMODELING PROJECTS
For years, NexGen Exterior Home Remodeling has been helping homeowners update, redesign, or transform their homes into ones they can enjoy for years to come. Take a look at some of our most recent exterior renovation work by our experts.