Residential Roofing Project | Philadelphia, PA
NexGen Exterior Home Remodeling is a complete exterior home remodeling company. There's no need to call multiple contractors for different aspects of the job. We'll handle it all.
With this particular job, the homeowner asked us to re-roof their home as well as re-side their dormers. As partners with CertainTeed we were able to do both by using their excellent products: the former, with a CertainTeed Integrity Roof System; the latter, by re-siding with CertainTeed Monogram vinyl siding.
As CertainTeed® SELECT ShingleMasters™, we installed a CertainTeed Integrity Roof System™:
Quality Products for a Quality Installation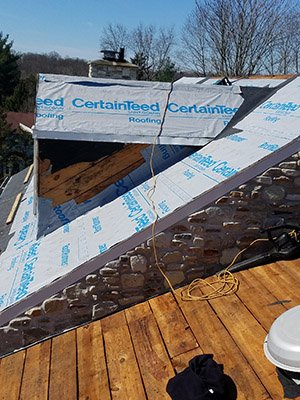 CertainTeed's DiamondDeck® Synthetic Underlayment is the gold standard in the roofing industry. Many contractors will cut costs with 15-lb. felt tar paper. But it just isn't worth saving a little bit of money while placing your whole home at risk. A vital part of any roof, underlayment is the last line of defense against water—providing a much needed moisture barrier between shingles and your home's wood decking.
CertainTeed's Landmark Architectural Shingles are an excellent option for homeowners looking for quality, aesthetics, and durability. Designed to emulate traditional wood shake shingles, architectural shingles provide a beautiful look for a fraction of the cost.
CertainTeed's Shadow Ridge Vent is an excellent source of ventilation for your home. A cheaper alternative is an aluminum ridge vent, which doesn't provide nearly the same amount of ventilation and is easily damaged during storms.
Helps protect against ugly mold stains on your roof by allowing the heat trapped in your attic to easily escape. This also makes your home much more energy efficient by lowering your cooling costs in the summer.
How to Contact Us
We offer a wide range of home remodeling services: Roofing, Siding, Windows—virtually any external home remodeling service. If you're looking for a home remodeling contractor, you can request a Free Quote from our contact page.
Also, if you're unsure about what areas we cover, you can check out our Service Area page for more details.
RECENT EXTERIOR REMODELING PROJECTS
For years, NexGen Exterior Home Remodeling has been helping homeowners update, redesign, or transform their homes into ones they can enjoy for years to come. Take a look at some of our most recent exterior renovation work by our experts.