New Front Porch with Overhang | Glenside, PA
Front porches require a deceptive amount of work. They're a perfect example of seemingly small jobs requiring a wide range of expertise. This new front porch we constructed for a homeowner in Glenside, PA, is a perfect example. The job might be seem simple enough: Removing the home's old stone stairs and replacing them with a front porch and overhang. But while the job may seem simple, it actually required many different skills:
Roofing
Carpentry
Electrical
Masonry
Decking & Railing
Soffit Work
As an expert exterior home remodeling contractor, we were able to perform all the necessary work.
A-Frame or Flat Roof
Before we began working on the job, however, we needed the homeowner to decide on the type of overhang: an A-Frame Extension or a Flat Roof.
A flat roof is easier to construct, but doesn't look as nice. While an A-frame gives an extra roof line and is much better aesthetically for a home, even though it's slightly more expensive.
Ultimately. the homeowner took our advice and opted for a A-frame, which really improves the architecture of the front of the home. Besides the actual carpentry, an A-frame requires additional shingling. Which isn't a problem for NexGen as we're CertainTeed® SELECT ShingleMasters™. We were easily able to tie into the existing roof and find matching shingles.
Other parts of the job included Pebble-grey Trex decking with white vinyl railings and soffit. Not only does Trex decking look amazing, but it's also a green alternative to traditional wood decking, as it's made out of 96% of recyclable material. It's also extremely durable and requires very little maintenance—a perfect material for high traffic areas like a front porch.
Basic electrical work for an outdoor light. After the lighting was installed, we could finish the job by installing the soffit—the vinyl siding that makes up the roof of the overhang.
Request a Free Quote
When hiring a contractor for a porch, you should consider hiring a remodeling contractor that specializes in all the various types of work it requires. At NexGen, we're licensed, insured, experienced, and manufacturer certified whenever possible to ensure a quality installation.
If you're looking for a quality porch addition for your home, request a Free Estimate from our contact page.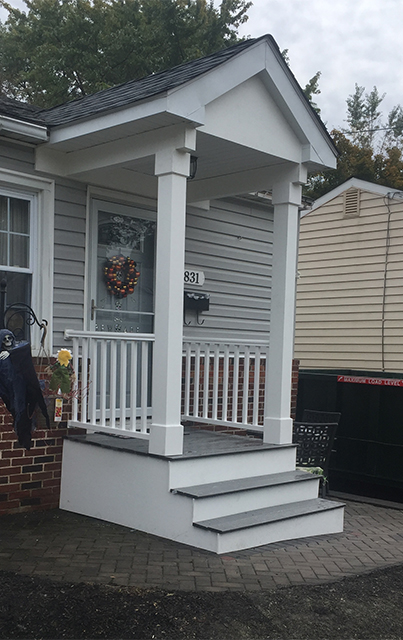 RECENT EXTERIOR REMODELING PROJECTS
For years, NexGen Exterior Home Remodeling has been helping homeowners update, redesign, or transform their homes into ones they can enjoy for years to come. Take a look at some of our most recent exterior renovation work by our experts.