Energy Efficient Home Remodel: Vinyl Siding & Windows | Jenkintown, PA
Insulating a home has energy efficient benefits year-round. During the summer months you'll keep the cold air inside, while during the winter months you'll trap the heat inside. This may not seem intuitive—keeping a home both cool and warm—but it's because insulating a home helps regulate the internal temperature.
This means that during the summer months, when you have the air conditioning going, your home will be cooler because the cool air is trapped inside the home. But during the winter months, when the heat is on, your home will be much warmer because the heat won't escape.
Energy efficient home remodels are not only good for the environment, but they're also good for your wallet. You'll reap the benefit of the lower utility bills, every month.
Vinyl Siding Installation
The first step to installing vinyl siding is always to inspect the home's exterior for any wood rot. If there's any rot, we'll cut the rotted wood out and replace it with plywood. Once all of the home's exterior walls are in good condition, we can start the vinyl siding installation.
After the home's sheathing inspection, we wrap the home with Typar® HomeWrap®. Installing this over the home's exterior walls adds a layer of protection against "splash-back" from rain. Not only does this protect the home from water damage, but it's also a great insulator.
Over the HomeWrap we install heavy-duty CertainTeed® Monogram® vinyl siding. We always recommend Monogram vinyl siding because it's durable, inexpensive, and looks great. If you're looking to install vinyl siding, you really can't go wrong with this product.
We also use custom-bent heavy gauge aluminum capping around all the home's windows and doors to protect against leaks. Around windows and doors is usually a major problem area for leaks and using vinyl capping just doesn't do a good enough job.
Energy Efficient Windows
Installing energy efficient windows is the perfect project for the fall. Utility bills are a major pain during winter, but with energy efficient windows, you'll be much better off. We recommend Harvey® Classic Windows because they're economic, incredibly durable, and look great.
Harvey Classic Windows are also double-hung. This means both the top and bottom panels of the window fold inside the home for easier cleaning. While not applicable for this particular job, these windows are fantastic for the second floor of homes, where you'll have to use a ladder to clean the outside.
Harvey Classic Windows also include fusion welded corners as opposed to steel screwed corners, which eliminates drafts, protects seams, and ensures windows stay square in their frames.
They also use a warm-edge metal spacer system. Cheap windows use vinyl spacers which expand and contract eventually causing the seals to break and moisture gets inside between the panes of glass. You notice when this happens because the windows become "foggy."
When this happens they also lose the insulating gas that's contained and sealed in between the double panels of glass. These particular windows use non-toxic Argon gas, which is a fantastic insulator which also protects against UV rays.
Not only are these windows particularly great at insulating your home, we also wrap all the window openings in Typar HomeWrap while also using foam sealant around the windows after they're secured.
Seamless Gutters Installation
Gutters were particularly important on this home because of valley of the roof. When it rains, the water gets funneled down the valley—which pours down onto the walkway, soaking anyone trying to enter the home during the rain. With the new gutters, however, the runoff gets caught by the gutter.
There are other benefits to gutters, too. The most important function of gutters is to help protect the home's foundation. Soil erosion is a major problem for a home's foundation. Gutters help protect against it by stopping rain water from falling against the home. Instead, gutters collect the runoff and send the water out away from the home.
How to Contact Us
Energy efficient remodels are great for lowering utility bills while increasing your home's value and aesthetics. If you're interested in an energy efficient home remodel, you can request a Free Estimate from our contact page.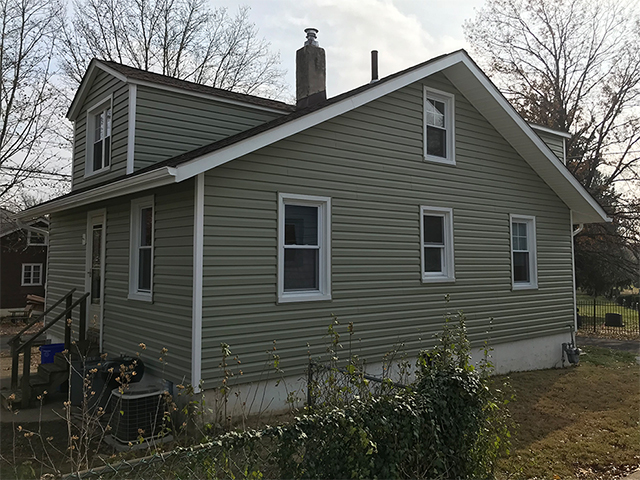 RECENT EXTERIOR REMODELING PROJECTS
For years, NexGen Exterior Home Remodeling has been helping homeowners update, redesign, or transform their homes into ones they can enjoy for years to come. Take a look at some of our most recent exterior renovation work by our experts.