Anatomy of an Energy Efficient Home Remodel | Glenside, PA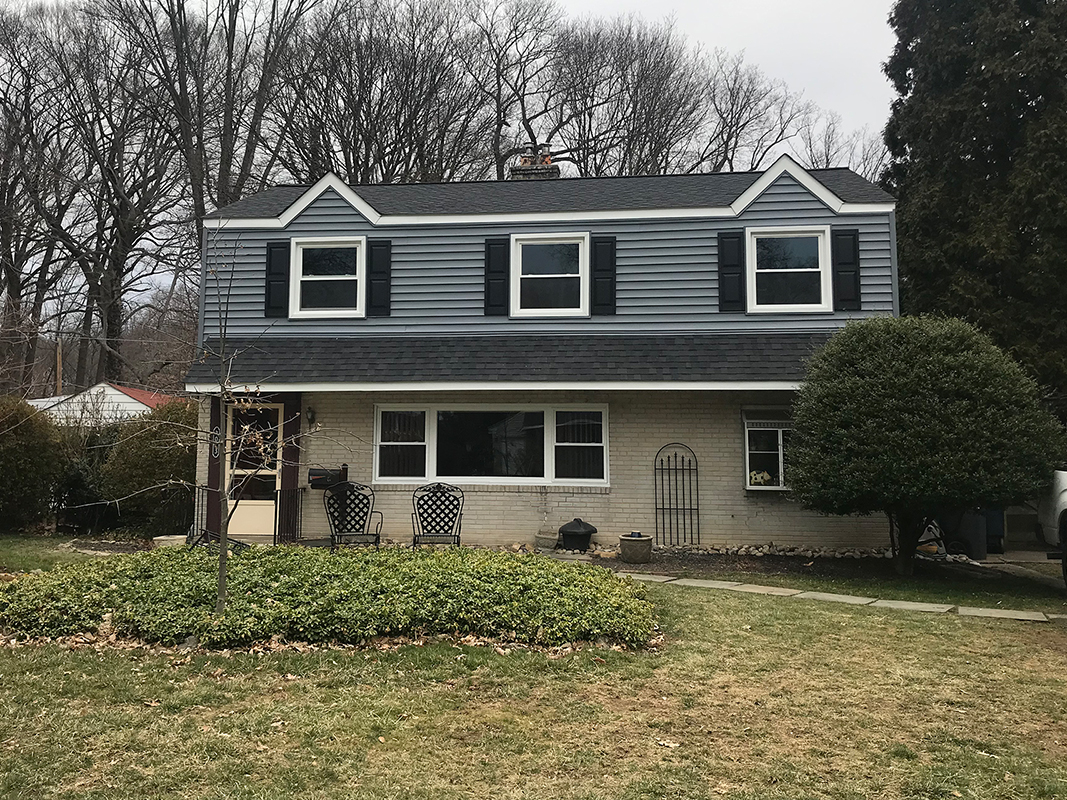 Winter is gone, spring is here, and summer is just around the corner. Now is a great time to think about your home's energy efficiency. With an energy efficient remodel, you'll save a lot of money on your home's energy bills in the months ahead while also lowering your carbon footprint.
Unfortunately for homeowners some myths still exist surrounding energy efficient remodeling. The more prevalent being that it's expensive. But nothing could be further than the truth. In fact, energy efficiency is the norm for any decent building product. Assuming you're not cutting cost at every turn with the cheapest products available, you'll find that almost all modern, quality building products are energy efficient—more or less.
Another unfortunate myth is that energy efficient products are ugly. Unless you're looking for vanity building products—like wood shake roof shingles or siding—the products are virtually identical with a few minor tweaks.
For example, if you're installing new vinyl siding, you can opt for additional insulating board which gets installed over your home's walls underneath the HouseWrap and vinyl siding. You won't notice any difference in aesthetics with or without it.
The products themselves also have the same aesthetic as their non-efficient counterparts. Unlike other energy efficient products, energy efficient home remodeling products are more or less the same as their non-efficient counterparts. In other words, your home's aesthetic is unaffected by being environmentally friendly.
Energy Efficient Windows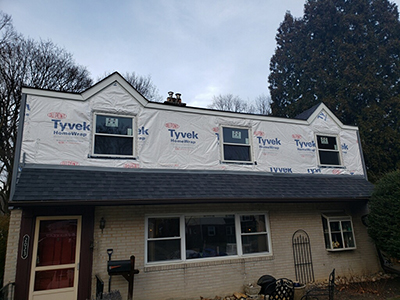 With that being said, let's take a look at the fantastic products used and the benefits for your home. Let's first consider the energy efficient windows: With this particular home, we replaced all windows with Harvey Classic Windows®. No matter what type: double hung, picture, sliding, or custom, these windows come in all types.
Filled with non-toxic, Argon gas, which is fantastic as an insulator, while it also blocks harmful UV-rays that can cause cancer. This gas is essential for energy efficiency but requires the window's seam to stay intact.
Have you ever seen windows that are "cloudy"? That's what happens when moisture gets trapped between the two panels because the seal gets broken.
These particular windows have 2 safeguards against that: Fusion-welded corners to hold the panes of glass in place and a warm-edge metal spacer system which prevents the argon gas from leaking over time.
These are premium windows that you'll be proud to have installed in your home.
CertainTeed® Monogram® Vinyl Siding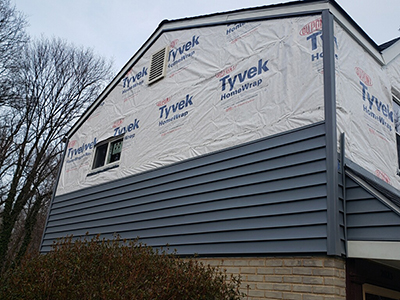 One of the most important insulating factors when siding your house is Typar® HouseWrap®–a water permeable membrane material, which not only works as a water barrier to protect your home from water damage, but it also insulates your home. This is placed down on top of either your home's wooden walls or on top of insulating board.
Housewrap is also used around all the home's openings: The openings around the home's windows and doors are all wrapped with it for superior insulation and protection against water damage. (These areas are prime targets for leaks and subsequent water damage.)
Another factor is the vinyl siding itself. With a Heavy-Duty .046" thickness, CertainTeed monogram vinyl siding is an exceptional insulator.
Roof Replacement
Quality shingles will reflect solar rays. Using certain shingles will even qualify you for certain tax credits. Another important factor is the type of underlayment you use. Synthetic underlayment, like DiamondDeck®, is vastly superior to tarpaper.
But probably the most important factor in an energy efficient roof is what you use to cap your home's peaks with. Older homes, or homeowners looking to cut costs, use cheap aluminum ridge vent. But we use CertainTeed's Shadow Ridge® ridge vent, which is fantastic at allowing the heat from the attic to escape out of the peak of the roof.
How to Contact Us
If you're interested in an energy efficient remodel, or any other kind of exterior home remodeling job, send us an email using our contact form and request a FREE QUOTE.
RECENT EXTERIOR REMODELING PROJECTS
For years, NexGen Exterior Home Remodeling has been helping homeowners update, redesign, or transform their homes into ones they can enjoy for years to come. Take a look at some of our most recent exterior renovation work by our experts.