Fiberglass Entry Door Replacement Contractor
Get a New Energy-Efficient Front Door
NexGen specializes in fiberglass door installation and has many years of experience making sure homes are secure and looking good. Our team can replace your existing door whether it's made from fiberglass or another material, and we also perform brand new door installations. We only use the best products from the top door manufacturers in the U.S., and we often recommend fiberglass as a smart choice because doors made with this material are beautiful, affordable, durable, and energy efficient.
NexGen is On Your Side
NexGen is your local exterior home remodeling company serving New Jersey and Pennsylvania. Our company is established and trusted. We're fully licensed and insured in both states, and we have substantial experience with residential front door replacement using fiberglass doors and other types of entry doors as well. Our prices for all products and services are competitive, and we offer a wide range of flexible financing options, including those that require no money down.
Enhance Your Home
Investing in a new fiberglass door provides many benefits. The main entrance is a focal point of your home, and a new door will enhance its curb appeal. Your front door is also integral to the overall energy efficiency of your home. Many homeowners are amazed at just how big a difference a new door makes when it comes to heating and cooling their homes.
High-Quality Front Doors
NexGen specializes in front door replacement and installs only the highest-quality doors available. A new fiberglass door not only enhances your curb appeal but increases your property value. You also save on a month-to-month basis when cooling and heating your home, which means that your new door will likely pay for itself over its lifespan. A new door is an opportunity to make a personal design statement, and there are many options when it comes to colors, styles, glass, sidelights, transoms, and so forth. It lets you dictate the right amount of light and privacy. You can upgrade the security of your home, and you can integrate smart home technologies, such as remote locking and unlocking.
Key Benefits of a New Fiberglass Door
A top reason that we often recommend fiberglass to homeowners is that a fiberglass door is affordable and provides a low total cost of ownership over the life of the product. Doors made from fiberglass can last for 20 years or more and require little to no maintenance during that period. Fiberglass is also a smart choice due to how energy efficient it is. The R-value of fiberglass is as much as four times that of wood. These doors also provide excellent security due to their solid construction and can be enhanced further with reinforced steel plates, additional deadbolts, and other safety features.
Signs It's Time to Replace Your Front Door
Knowing when to replace a front door can be difficult. Age is certainly a factor, and NexGen advises watching for signs that the condition of the door is deteriorating. A door with any rotting wood should be replaced as soon as possible. Signs of excess moisture may indicate that the weatherproofing is failing. Excessive drafts undermine home comfort and increase your heating and cooling costs, and significant cracks and dents can undermine the efficiency and security of your front door.
WHY CHOOSE US?
When it comes to hiring a front door replacement contractor, NexGen Exterior Home Remodeling stands out above the competition.
WE'VE GOT THE TOOLS
No matter what your project, we have the latest state-of-the-art tools to get the job done.
CERTIFIED EXPERTS
Our experts are trained to help bring your visions to life and meet all of your home needs.
COMPETITIVE PRICING
We provide the highest quality work at competitive prices to help you stick to your budget.
LABOR WARRANTY
We know you'll love the work our professionals do, and we offer the warranty to prove it.
YEARS OF EXPERIENCE
Our specialists have the right knowledge and skills to help you improve (and love) your home.
GREAT SUPPORT
Whether you invest in a remodel or an improvement, we'll be with you from start to finish.
Other Front Door Styles
NexGen's door replacement services aren't limited to fiberglass. Our expert door installers also have extensive experience putting in steel, wood, and glass front doors.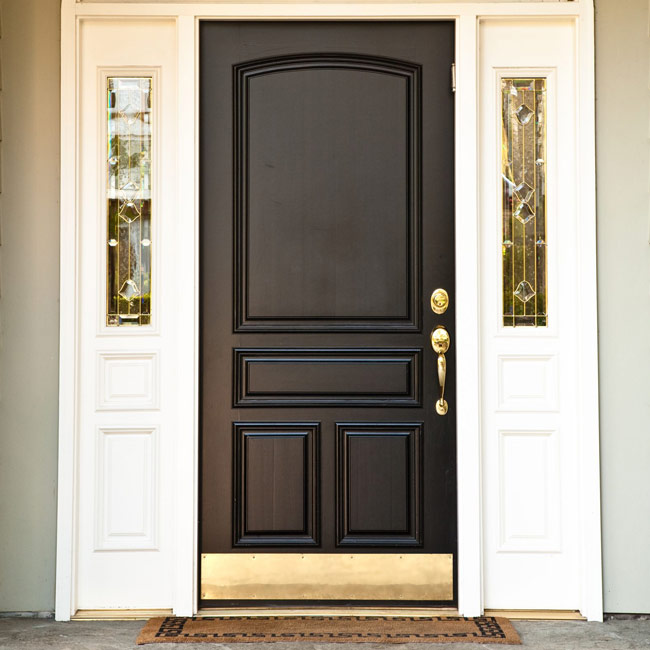 Steel Front Doors
Steel front doors, such as the Therma-Tru line, are a popular choice, but there are some trade-offs to consider. On one hand, they provide unparalleled security and excellent energy efficiency and longevity, but on the other, they require more maintenance and are prone to rust and dents.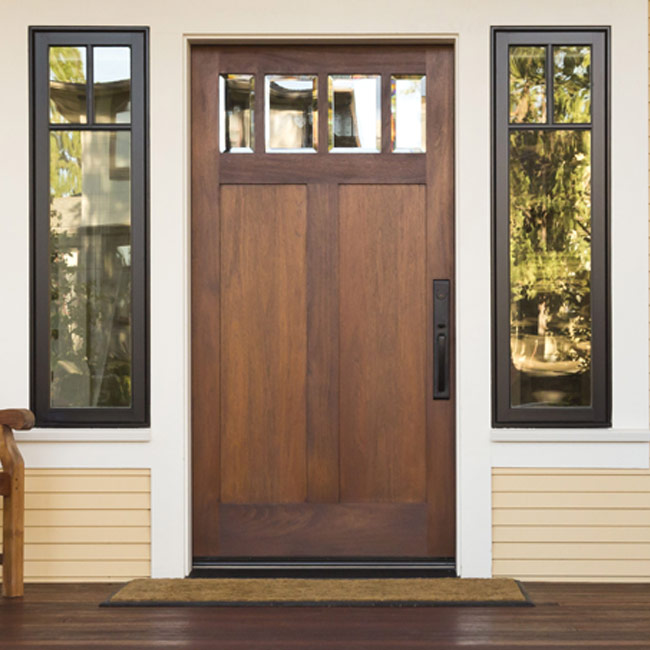 Wood Front Doors
Wood is a classic choice for front doors, and many homeowners prefer the aesthetics of natural wood. A door made of natural wood, however, will not be as secure or as energy efficient as a fiberglass door. But depending on the style of your home, wood may be unrivaled when it comes to curb appeal.
Glass Front Doors
When it comes to letting in as much natural sunlight as possible, glass front doors are unequaled. There are many options available with glass front doors. You can strike the perfect balance between glass and another material, such as wood, and there are privacy options, such as rain glass and frosted glass.
Request a Free Quote
If you're considering a new fiberglass door, NexGen would be happy to provide an on-site consultation at no charge and without obligation. We can answer all of your questions, help you consider fiberglass versus your other options, and assist you in exploring the various products and styles available. Based on your choices and the specifics of your home, we'll then provide you with an upfront and accurate estimate that includes the cost of the door and all installation charges.
Choose NexGen for Your Fiberglass Door Installation
A new fiberglass door is a smart choice for your home, and NexGen is the company you can trust and rely on to deliver superior craftsmanship at a fair price. Call us today or email us if you're ready to schedule your estimate or just have questions about our fiberglass doors and installation services.
RECENT EXTERIOR REMODELING PROJECTS
For years, NexGen Exterior Home Remodeling has been helping homeowners update, redesign, or transform their homes into ones they can enjoy for years to come. Take a look at some of our most recent exterior renovation work by our experts.