ASK ABOUT OUR BEST PRICE GUARANTEE
We'll match—or beat—any competitor's quote for the same materials and job specifications.
Custom Deck Builder in Essington PA
Enhance Your Outdoor Living Space
Most homeowners dream of building a custom deck in their backyard where they can enjoy outdoor fun and cookouts with their families and friends. There are also many homeowners who wish that they had a porch on the front or sides of their home which provides the perfect place to drink coffee in the morning or read the newspaper. If you dream of the day when you can build a deck, porch, or both at your property in Essington PA, put your trust in a custom deck builder from NexGen Exterior Home Remodeling. We're the most trusted home improvement company in the area and can help bring your vision to life.
Our team uses Trex® eco-friendly recyclable composite decking materials, which eliminate the time-consuming maintenance that traditional wood decks and porches require. However, we work with real wood too. We can complete your next outdoor project affordably, in a timely manner, and with minimal disruption to your everyday schedule.
Why Build a Custom Deck?
Hiring a custom deck builder in Essington PA, has several advantages. It gives you the freedom to design your deck according to your preferences and vision for the space in your backyard. If you don't have a lot of space, our team can help you create a design that maximizes the space that's available. As a result, you'll add living space to your home that has form and function. The money that you spend building a deck will be reflected in the value of your home if you ever decide to sell it. A custom deck can enhance the curb appeal as well, accelerating the sale of your home.
Building a custom deck gives you a comfortable and versatile way to enjoy your backyard. With strategically placed plants, you get privacy and the feeling of living in a suburb or the country even if you live in the city. It's a great place to escape from life stresses. Your deck will serve as a functional space for all kinds of gatherings, and your visitors won't have to be crowded into your home. An array of accessories are available to make your custom deck even more functional, such as fire pits and cushy outdoor seating.
Top Reasons To Build A Custom Deck
Add Living Space
Increase Your Home's Value
Enjoy the Outdoors
Versatile Entertaining Options
Supports Healthy Living
Low Maintenance Options
Affordable Customizable Choices
Provides an Area to Relax
Improves the Look of Your Yard
Enhance Your Property With a Porch or Pergola
NexGen Exterior Home Remodeling can help you add shade and protection from the elements with a custom built covered porch or pergola.
Covered Porches for All Seasons
A covered front porch can create a welcoming atmosphere for your home. It's an inviting space for your guests and an intimate retreat for you all year around. When you hire NexGen Exterior Home Remodeling for your porch project in Essington PA, you will have the opportunity to design a thorough plan for the functionality of the space. Perhaps you want to add rocking chairs or a porch swing. There are plenty of furniture pieces and other features to choose from, and we can help during every step of the process.
Pergolas for Shade
If you're a backyard enthusiast and like to continuously improve it, a pergola is an excellent addition that can extend your living space. It will pair well with your deck and give you even more room for outdoor gatherings, casting enough shade to make even hot afternoons enjoyable. This living space extension can be equipped with everything that an entertainer could want, such as speakers, lights, fabric, ceiling fans, and chandeliers. With the help of a NexGen custom deck builder in Essington PA, a pergola can be designed in a way that's affordable for even the most modest budget.
WE'VE GOT THE TOOLS
No matter what your project, we have the latest state-of-the-art tools to get the job done.
CERTIFIED EXPERTS
Our experts are trained to help bring your visions to life and meet all of your home needs.
COMPETITIVE PRICING
We provide the highest quality work at competitive prices to help you stick to your budget.
LABOR WARRANTY
We know you'll love the work our professionals do, and we offer the warranty to prove it.
YEARS OF EXPERIENCE
Our specialists have the right knowledge and skills to help you improve (and love) your home.
GREAT SUPPORT
Whether you invest in a remodel or an improvement, we'll be with you from start to finish.
Custom Decks Built With Quality Materials
NexGen Exterior Home Remodeling proudly builds custom decks and porches with cedar, pressure treated wood, or Trex® composite decking.
Custom Wood Decks in Essington PA
While advances in outdoor decking materials have come a long way to reduce maintenance and increase longevity, we understand if you prefer the real thing. Composite decking simply can't emulate the appearance and feel of quality wood. For that reason, you can choose cedar and traditional pressure-treated wood when you hire a custom deck builder from our team for your project.
However, it's important that you consider the downsides of choosing to build a wood deck in Essington PA. Although the investment that you initially make is less compared to a composite deck, a wood deck will require a lot more maintenance to ensure it lasts for its intended life span. In turn, you'll spend more on upkeep than if you had built a custom composite deck. You shouldn't let these downsides prevent you from building a custom wood deck, though. A wood deck can still last for years, providing a wonderful escape or entertainment space for your family and friends.
Trex® Composite Decking Installation
A custom deck builder from our team can help you take advantage of Trex® modern decking solutions at your home in Essington PA. These composite deck materials offer the ideal combination of durability and luxury. They also reduce the need for maintenance compared to traditional wood decks. Without proper upkeep, wood is inclined to fade, rot, or warp, and it's susceptible to termite damage.
NexGen Exterior Home Remodeling can save you money and time with a custom composite deck design using Trex® materials. You don't have to worry about fading, staining, or splinters with composite decking. The components that are combined to create these materials hold up to harsh weather conditions, giving you an excellent outdoor living space to enjoy in any season. We can even use Trex® materials for deck extensions, decorative walkways and more. You can trust this product to add lasting beauty and value to your home.
Custom Deck Building Process
At NexGen Exterior Home Remodeling, we begin every Essington PA custom deck installation the same way as any building project: with a solid foundation. The first step is to cement the posts or footings into the ground so that your deck has the necessary support to withstand wind damage and the weight of furniture and people. We make sure that your deck never leans and will remain safe for your family and friends for years to come.
When the concrete dries and the foundation sets, our custom deck builder will begin to build the frame. This step involves carefully connecting the crossbeams with the posts and securing the joists into robust metal hangers We'll confirm that everything is stable and correctly in place so that your deck is never uneven or saggy. We want to make sure you don't end up with a runaway grill! With the frame complete, our team will add the decking. If you chose wood for your custom deck, we'll finish it with a stain. If you chose Trex® composite decking, we'll apply a sealant.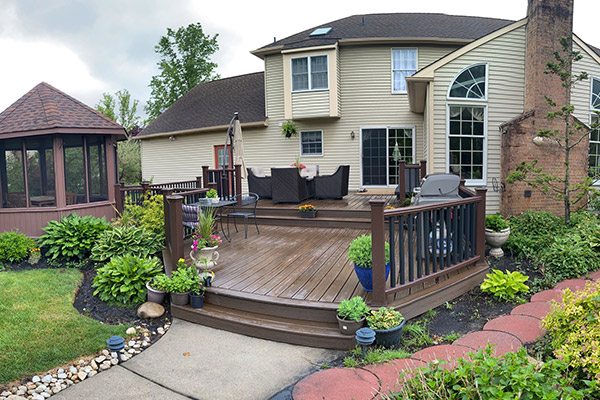 Contact a Custom Deck Builder at NexGen
If you need help from a custom deck builder who provides affordable and reliable service in Essington PA, contact NexGen Exterior Home Remodeling! Our team of trained and experienced professionals can complete your project quickly and on budget. We're prepared to make your home look and function better than ever and ensure that your new deck, porch, or pergola enhances your home's curb appeal and value. You can schedule a free estimate by calling one of our experts at 1-215-277-7630 or filling out our online form today.
RECENT EXTERIOR REMODELING PROJECTS
For years, NexGen Exterior Home Remodeling has been helping homeowners update, redesign, or transform their homes into ones they can enjoy for years to come. Take a look at some of our most recent exterior renovation work by our experts.