Porch Building: Composite Decking and Roofing System | Lafayette Hill, PA
Here are the results of a recent porch we built for a homeowner in Lafayette Hill, PA. With electricity, cable outlets, ceiling fans, and sheer size (20′ x 29′), it's essentially a home addition rather than a porch. Perfect for cookouts, outdoor meals, social gatherings, or simply getting outside and enjoying the fresh air.
Before working on the deck itself, we wanted to fix the roof extension. By wrapping the 6″ x 6″ columns in vinyl, matching and installing new shingles on the roof, and then installing new gutters, we completely overhauled the porches' roof and created an excellent source of shade for the homeowner.
Rather than covering the entire deck with a roof, the homeowner opted instead to cover half of the deck and keep the other half exposed. With this setup, you can either enjoy the sun's rays, or escape from them in the comfort of the shade.
Choosing a decking material was easy for the homeowner. After investing in their old deck—just to have it replaced—they didn't want to go through the same ordeal again.
Rather than deal with the constant maintenance and eventual replacement costs of using pressure treated lumber, the homeowners decided to go with composite decking instead.
Made up of 95% recyclable materials, Trex® composite decking is an eco-friendly alternative to traditional wood-built decking. Because of its low maintenance costs, extreme durability, and tremendous lifespan, it's also a cost effective alternative to traditional decking.
The only downside is the initial cost: Trex decking is more expensive than pressure-treated lumber.
We began installing the new deck by removing the old wooden deck, which included removing the old footings because they were cracked and improperly installed. As extra prep work, we also ran out electrical and cable wires for the homeowner. Finally, we installed Island Mist colored Trex composite decking along with Nantucket Gray colored post caps.
Once the deck was finished, we installed solar cap lights on the railing posts and on the stairs. As the name suggests, these are lights powered by solar cells which allow for lighting without running electricity. These also give a picturesque aesthetic during the nighttime.
If you're interested in a similar porch or deck, get in touch with us for a free estimate!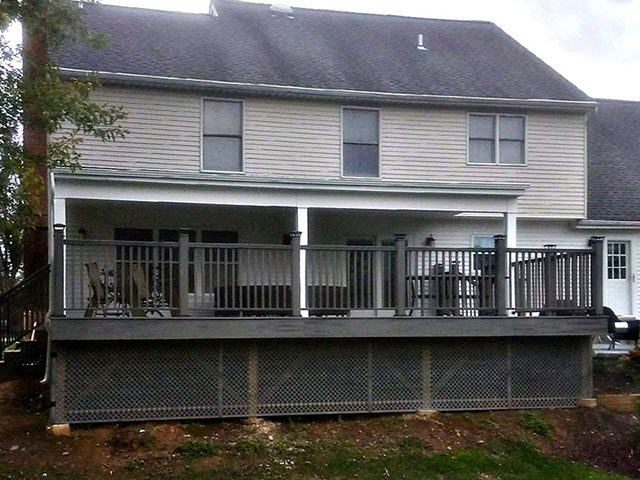 RECENT EXTERIOR REMODELING PROJECTS
For years, NexGen Exterior Home Remodeling has been helping homeowners update, redesign, or transform their homes into ones they can enjoy for years to come. Take a look at some of our most recent exterior renovation work by our experts.